Tyrael: Azmodan's demons have opened an enormous hole in our walls and are flooding into the depths. If it is not closed, the keep will be overrun!
Necromancer: Leave it to me.
---
YOUTUBE VIDEO
---
OBJECTIVES
Find the Keep Depths Level 2
I see. If Azmodan cannot send his forces over the walls, he will have them dig their way in from below. The keep's defenses are sparse in the lower levels, but that is a challenge I can accept.
---
Enter the Keep Depths Level 1 — between the Jewelcrafter and Mystic shops.
---
OBJECTIVES UPDATE
Find the Keep Depths Level 2
---
LOCATION: KEEP DEPTHS LEVEL 1
Templar: This keep was meant to garrison three thousand. Barely a third of that was here when the demons came.
Necromancer: How unfortunate.
Templar: Men and their leaders fear to prepare for a catastrophe because they believe it will bring one about. Fools.
You will find the Keep Depths Level 1 Waypoint next to the Keep Depths Level 2 door.
---
OBJECTIVES UPDATE
Find the Breach in the Keep Depths
---
LOCATION: THE KEEP DEPTHS LEVEL 2
You must be careful in this level as there are packs of Fallen Maniac — the fallen who explode. Use mobility abilities to move away.
Vision of Azmodan: You're too late! My servant is already inside your walls, and his hunger is ravenous. He will devour your corpse and those of your friends.
Enter the Keep Depths Level 3, further behind Vision of Azmodan.
---
OBJECTIVES UPDATE
Find the Bastion's Keep Larder
I do not fear a ravenous demon, but Azmodan's warning will help me prepare for the fight against him. I have observed that, unlike his brother, Azmodan's minions are all demons. Belial's insidious tactics must not have been well received by the armies of Hell, forcing him to corrupt humans instead.
---
LOCATION: THE KEEP DEPTHS LEVEL 3
Templar: This was no ordinary battle…
Enter the Larder.
---
OBJECTIVES UPDATE
---
LOCATION: THE LARDER
Templar: We are not alone in here.
Ghom: The one who killed Lord Belial. I will savor tearing the flesh from your bones.
He periodically vomits in a frontal-cone range. Don't stand on the vomit.
His stomach will spit out two acidic oozes. Kill them whenever possible.
Ghom can be stunned.
Move around the Larder in a circle as he continues to spew gases. Stay away from the green gas.
Templar: Ah, the scent of battle saturates the air. This is where we truly belong.
Pop the Town Portal (T).
---
OBJECTIVES UPDATE
Return to the Bastion's Keep Stronghold
I have to admit, that demon did smell worse than even the most fetid corpses I've raised. The soldiers of this keep have scarcely recovered their courage, and losing most of their food supplies will be difficult for morale.
---
LOCATION: BASTION'S KEEP STRONGHOLD
Vision of Azmodan: An empty victory over a useless tool. You have only delayed your inevitable destruction. Your walls have grown no stronger. Our assault continues unabated. The stone will still be mine.
---
TOWNSFOLK DIALOGUES: BASTION'S KEEP STRONGHOLD
THE THRILL OF BATTLE
Tyrael
I am once again filled with the thrill of battle. It has been too long since I have raised my blade against the forces of the Burning Hells.
I remember countless battles within the heart of Pandemonium, as my brethren and I risked everything to drive the demonspawn back to their hells.
Necromancer
Light and darkness are essential to the Balance. They must have been incredible battles.
Tyrael
They were glorious. We waged our… Eternal Conflict since the light first broke upon creation. But now, for the first time, it feels as if its end is in sight.
---
| | | |
| --- | --- | --- |
| | | TYRAEL'S COMMAND |
| | Tyrael | You are a great warrior. |
| | Necromancer | No, I merely have a good commander. |
| | Tyrael | I do what I can. Imperius himself would have been hard pressed to hold these walls as long as these soldiers have. This world owes them a great debt. |
| | Necromancer | Imperius? I do not know him. |
| | Tyrael | Imperius is the archangel of Valor. It is he who commands the legions of the High Heavens. |
---
THE BATTLE OF THE DIAMOND GATES
Necromancer
Which battle do you remember best?
Tyrael
We thought we had lost everything at the Fifth Battle of the Diamond Gates. The Prime Evils and their legions crashed against the very entrance of Heaven itself, but one of my most trusted lieutenants, Izual, turned them back!
Still, the day might have been lost had the demon lords not fallen to fighting amongst themselves. So confident on their impending victory, they turned on each other over the spoils they had yet to win.
I shudder to think what the demon lords might accomplish should they ever stop betraying one another. Such is the self-defeating nature of evil.
---
Villager: My children aren't afraid like the others. They know we have to be strong, that brave warriors like you have to hold this place. I'm so proud of them.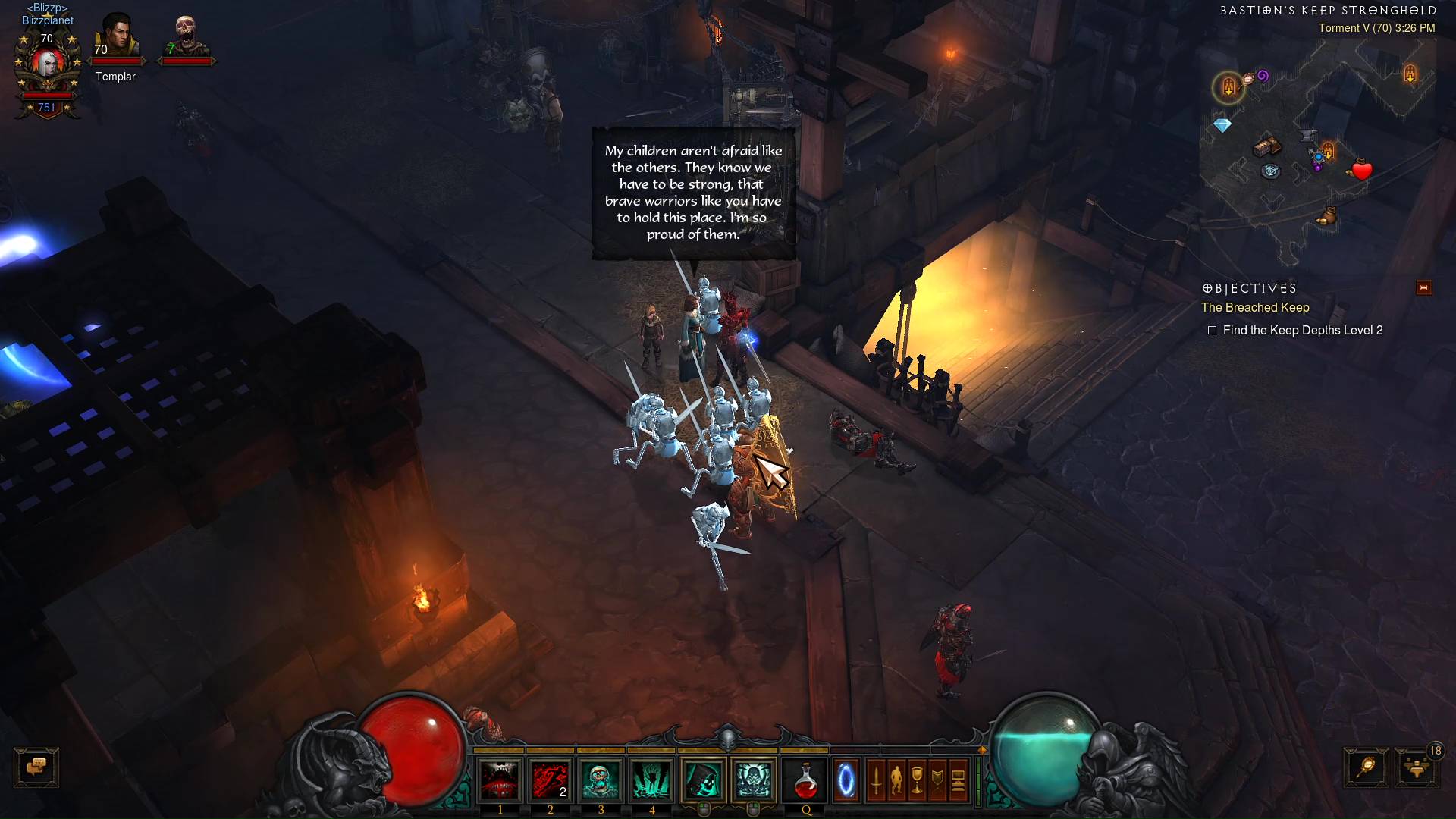 ---
Soldier: The demons came out of nowhere. How are we supposed to defend against that?
Soldier 2: We don't. We just pray it doesn't happen again.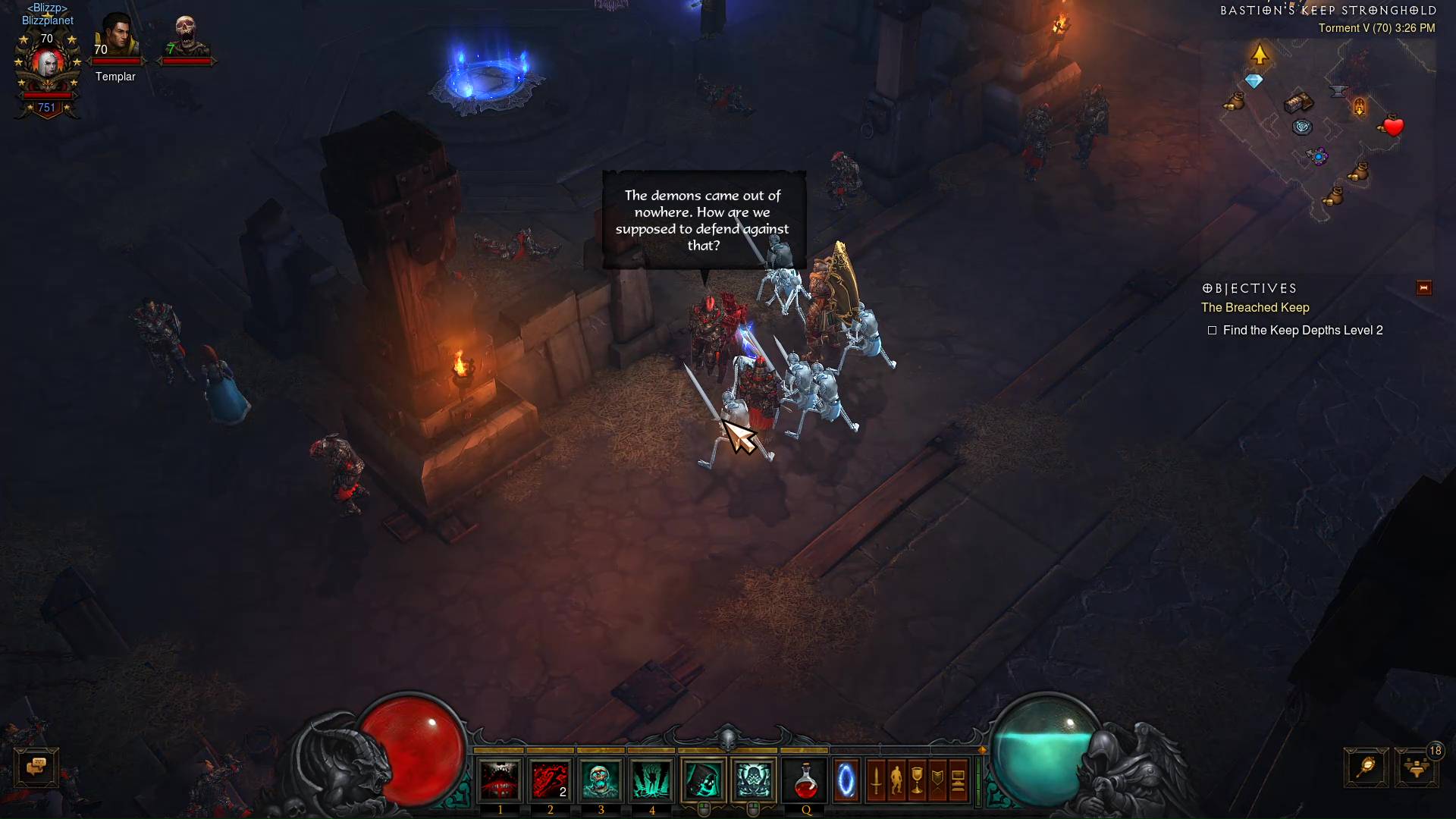 ---
INJURED SOLDIERS
It hurts!
Commander Calderos and his men were slaughtered at the gates. We are lost!
I can't see anything! Why is it so dark in here?
Please don't let my children see me like this.
Does it look bad?
Someone, talk to me!
Let me up! I can still fight!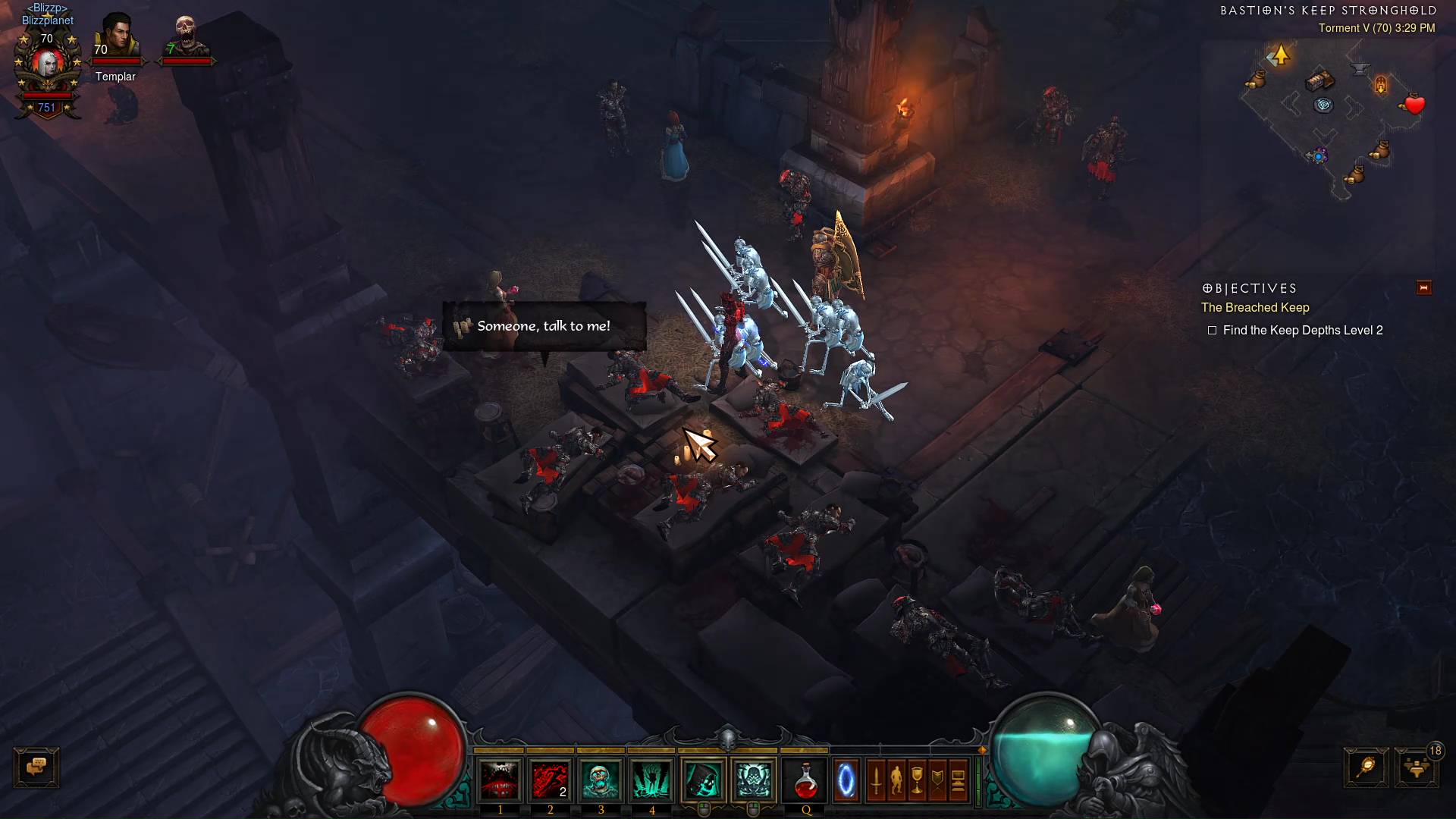 ---
| | | |
| --- | --- | --- |
| | | FOUL DARKNESS |
| | Myriam | I see a foul darkness gathering around us. The forces of Hell will soon overwhelm Leah. |
| | Necromancer | Will the soulstone shatter? |
| | Myriam | No. You help Leah contain the energy within the stone, but the cost to her is high. |
---
DIALOGUES AVAILABLE AFTER COMPLETING THE QUEST
| | | |
| --- | --- | --- |
| | | THE SCOUNDREL'S WEALTH |
| | Necromancer | What are you doing with your riches, Lyndon? |
| | Scoundrel | Living a life of depravity and overindulgence, naturally. |
| | Necromancer | Please. |
| | Scoundrel | Fine. Perhaps I have found that my treasure is put to better use elsewhere. |
| | Necromancer | That sounds suspicious. |
| | Scoundrel | We all have debts to pay, friend. |
---
TOWNSFOLK DIALOGUES: THE ARMORY
| | | |
| --- | --- | --- |
| | | |
| | Leah | The stone is vibrating… I can barely hold it. Their voices — they're screaming in my head! |
| | Necromancer | Leah is losing strength. |
| | Adria | Clearly, the stone wasn't built to contain six demon lords indefinitely. Only Leah's will holds it together. |
| | Necromancer | Then I must hurry. |
---