Up until now, the Netflix Diablo anime TV adaptation had been rumor, and semi-confirmed after Andy Cosby responded to my now deleted tweet that he was in negotiations to write the story for the Netflix adaptation.
For two years, this had gone dormant, but several websites are now echoing a really good find in Activision Blizzard Studios president's Linkedin page that confirms the Netflix Diablo anime TV adaptation as currently in pre-production. No longer a rumor, still not officially announced, but now confirmed as true and in development.
---
Nick Van Dyk — President (formerly COO/CFO)
Company Name: Activision | Blizzard Studios
Dates Employed Sep 2014 – Present
Employment Duration 5 yrs 6 mos
Location Santa Monica, CA
President of the film and television division of leading game company Activision | Blizzard, charged with adapting the company's intellectual property to film and TV, including development, financing, production and distribution. After founding the business unit in 2014 and serving as its COO and CFO, I grew the business to $15 mil in revenue and with my creative partner built a diverse and world-class team of 20+ people to execute our mission. I oversee financing, distribution, strategic planning, franchise management, business affairs, operations and other functions of this emerging business unit while working closely with the creative team.
Executive producer of Diablo, a TV adaptation of Blizzard Entertainment's IP, rendered in anime style. The show is currently in pre-production for distribution worldwide through Netflix.
With my creative partner, developed and sold an animated series based Blizzard's Overwatch franchise.
In addition, and this is completely new, an Overwatch animated series was sold by Activision Blizzard Studios. However, Netflix isn't mentioned in this project, which makes you wonder if it is airing on TV or online. Maybe Hulu?
That is not completely ruled out. Nick Van Dyk was formerly the Senior Vice President, Corporate Strategy & Business Development of The Walt Disney Company — which is the parent company of Hulu at the moment.
Not long ago, the Diablo Twitter account responded to a Netflix Tweet — something I found very awkward and suspicious, because Blizzard knows how much hype it would create after the Diablo Netflix rumor circulated the internet. Everything is connected.
---
UPDATE: ALL TRACES REMOVED
UPDATE (Feb 22): After several days of the Linkedin page* revealing the Netflix Diablo anime series and the Overwatch animation series being unchanged… the linkedin page has been mysteriously updated with the removal of any trace concerning Netflix Diablo and Overwatch.
In addition, the Linkedin now says that Nick Van Dyk is no longer president of Activision Blizzard since December 2019. The previous version said "present."
Compare before and after: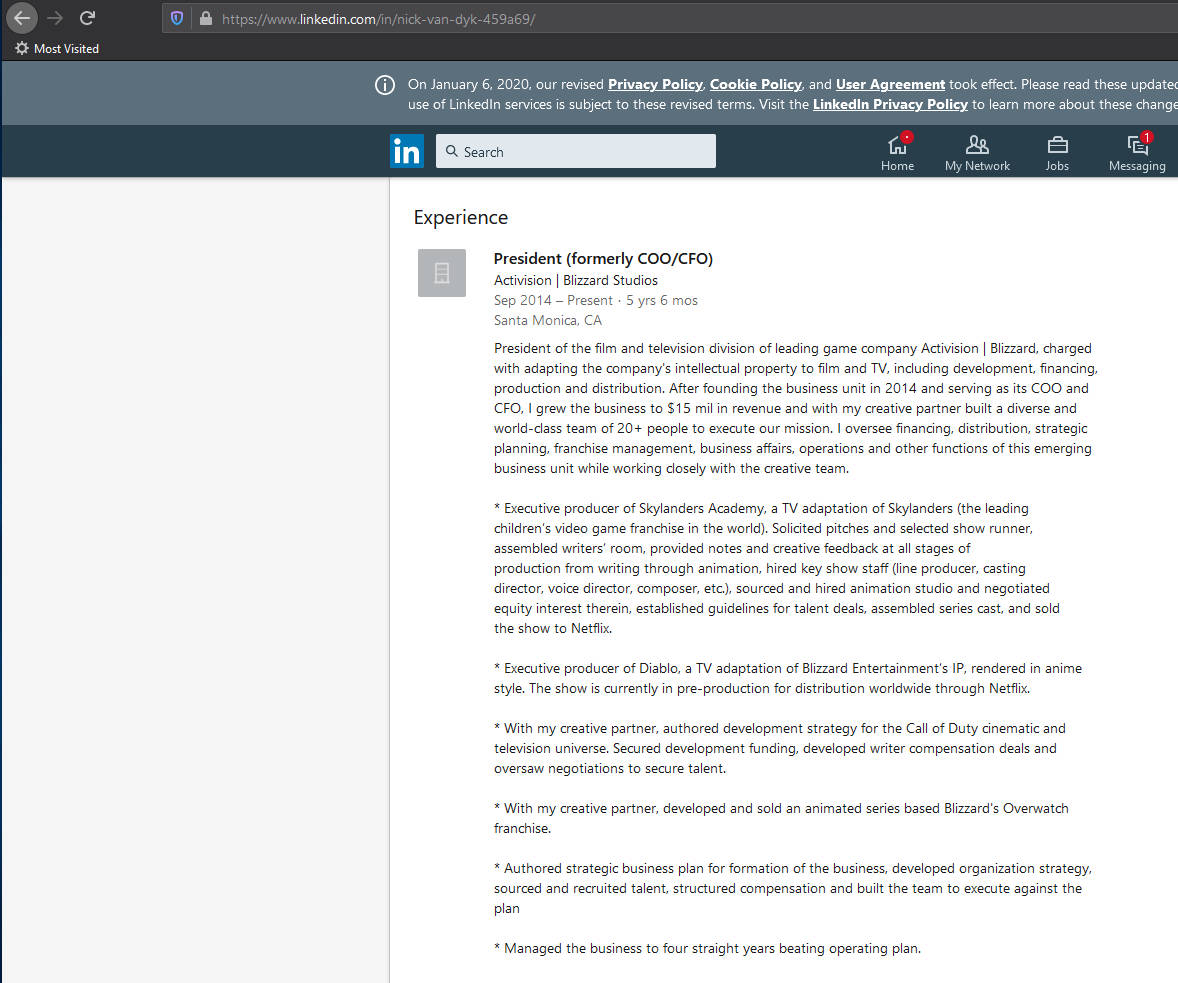 If you haven't login into Linkedin, the Linkedin page is going to show as "page doesn't exist." You can view the page after login in.