Something extraordinarily awkward happened last week when Netflix tweeted a question, and the Diablo Twitter account replied out of the blue.
NETFLIX: what's something you can say during sex but also when you manage a brand twitter account?
DIABLO: By Three They Come.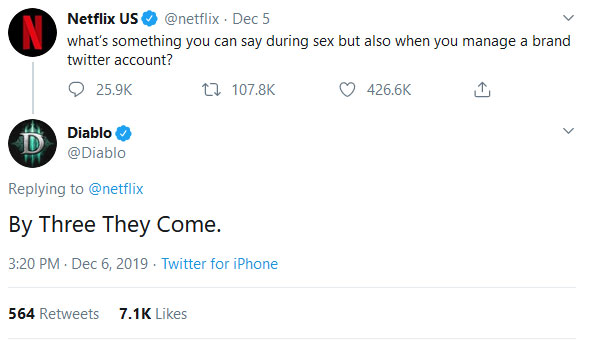 What just happened here? Was this meant merely as a joke? Or was this a tease? As some might remember, some time ago I asked Andy Cosby about the Netflix Diablo rumor. He didn't deny the rumors.
Things went silent thereafter, and now out of the blue the Diablo Twitter account responds to a random-ish Netflix tweet with innuendo toward a threesome that happens to be about the recent Diablo IV cinematic: By Three They Come.
What do you think? Coincidence joke, or might there be some kind of tease of things to come?
Would you like a Netflix Diablo animated series (Rated R), or a live-action Netflix Diablo series (Rated R)?