Within the past 24 hours, Blizzard Entertainment posted a job opening for a Associate Test Analyst for the Diablo Immortal team specifying the role as QA/Test Developer.
After finding the job opening, I used a known technique to find out when a page was first published. In this case: 1 day ago.

The job opening page is no longer taking applications. (Cache)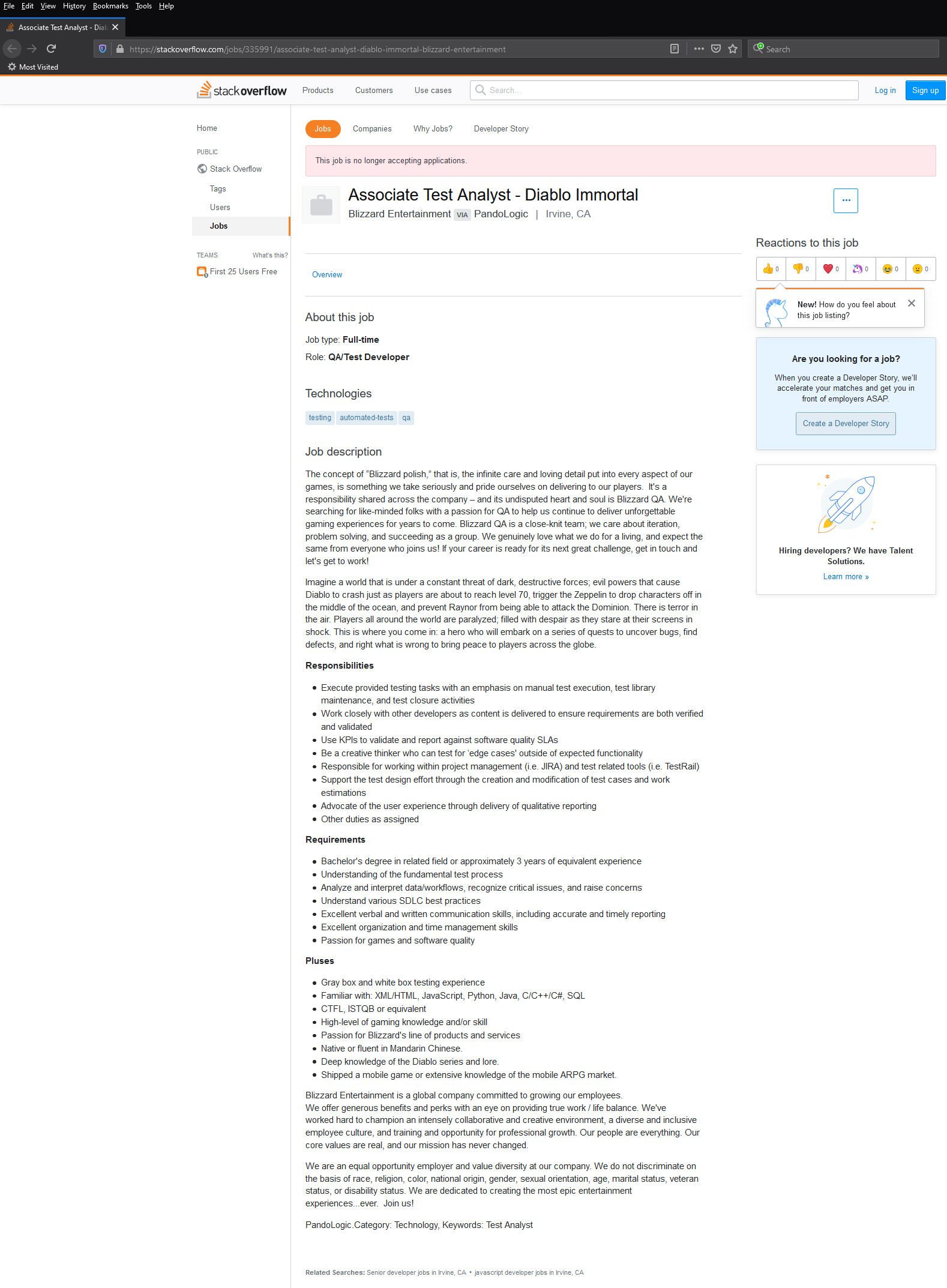 It seems the Diablo Immortal team is in its final phase in preparation for a 2020 launch.
But for almost every Blizzard game launch, except for Hearthstone, the game developers make a public beta testing.
You can currently pre-register for the Diablo Immortal beta in Android devices.
Beta testing usually lasts anywhere between 3-6 months. So depending when Diablo Immortal goes into beta, we could be expecting a launch between Summer-Fall 2020 at the least.
At the moment, two of the known Diablo Immortal playable classes have not been featured: the Crusader and the Necromancer.
My guess is that at least one or two of those might be featured at PAX East 2020. Maybe even Taipei Game Show 2020 — to which Blizzplanet has been mysterously invited to this week by its organizer, for the first time.
I asked the Taipei Game Show organizer if Blizzard Entertainment or NetEase plan to attend the event. Curiously, she did not confirm or deny. Instead, she responded the Exhibitor List will become public mid January. I guess I will have to wait and find out. In 17 years, I don't recall any Asian game event organizer handpicking Blizzplanet for a press accreditation. So I am going by gut instinct on the pretense that coincidences don't exist. We'll see.
Back in 2008, Blizzard Entertainment invited me to the Blizzard Worldwide Invitationals in Paris, France. They did not inform me what for. It turned out to be the Diablo III reveal announcement.
Follow @Blizzplanetcom for updates.