Blizzard Entertainment announced Diablo Immortal at BlizzCon 2018, and when asked whether Diablo Immortal could be played on the PC, the developer said only on Android and iOS devices. However, on November 5, 2018 there was a sneaky comments by NetEase to the chinese media that not many people know about:
Diablo Immortal was made with NetEase's Messiah-engine (which supports PBR); and that NetEase is alright with players using Android emulators on their PC. (source)
So you see, you don't really need a phone to play Diablo Immortal. You can play Diablo Immortal on your PC using your keyboard and mouse.
Personally, I never had a smartphone until a few months after Diablo Immortal was announced when I got ahold of an older model with Android 6. Definitely, not android savvy… just like many of you. When I read that NetEase was ok with PC emulators, I immediately looked around in Google to read some articles and watch some videos.
I found one constant go-to Android emulator for the PC recommended by people. Even better… Mac players can install the emulator too.
Here is how to play Android games on your PC or Mac computer:
Step 1: Install BlueStacks. Login using your Gmail credentials.
Click the 3 lines icon to open the Settings, and choose "Advance." There you can switch to the Samsung Galaxy S8 Plus profile. That phone currently has the Android 9 Pie. Diablo Immortal at the moment doesn't show up in earlier Android versions.
Step 2: Launch Google Play within BlueStacks. Type DIABLO IMMORTAL. Register to participate in the Diablo Immortal closed beta test using a Google email/Gmail address.
Step 3: Once Diablo Immortal goes live, install the game using Google Play within the Bluestacks window. However, for practice purposes, go ahead and install any NetEase game such as Crusaders of Light, or Knives Out.
Step 4: The game's icon will appear in the Bluestacks desktop. Launch the game.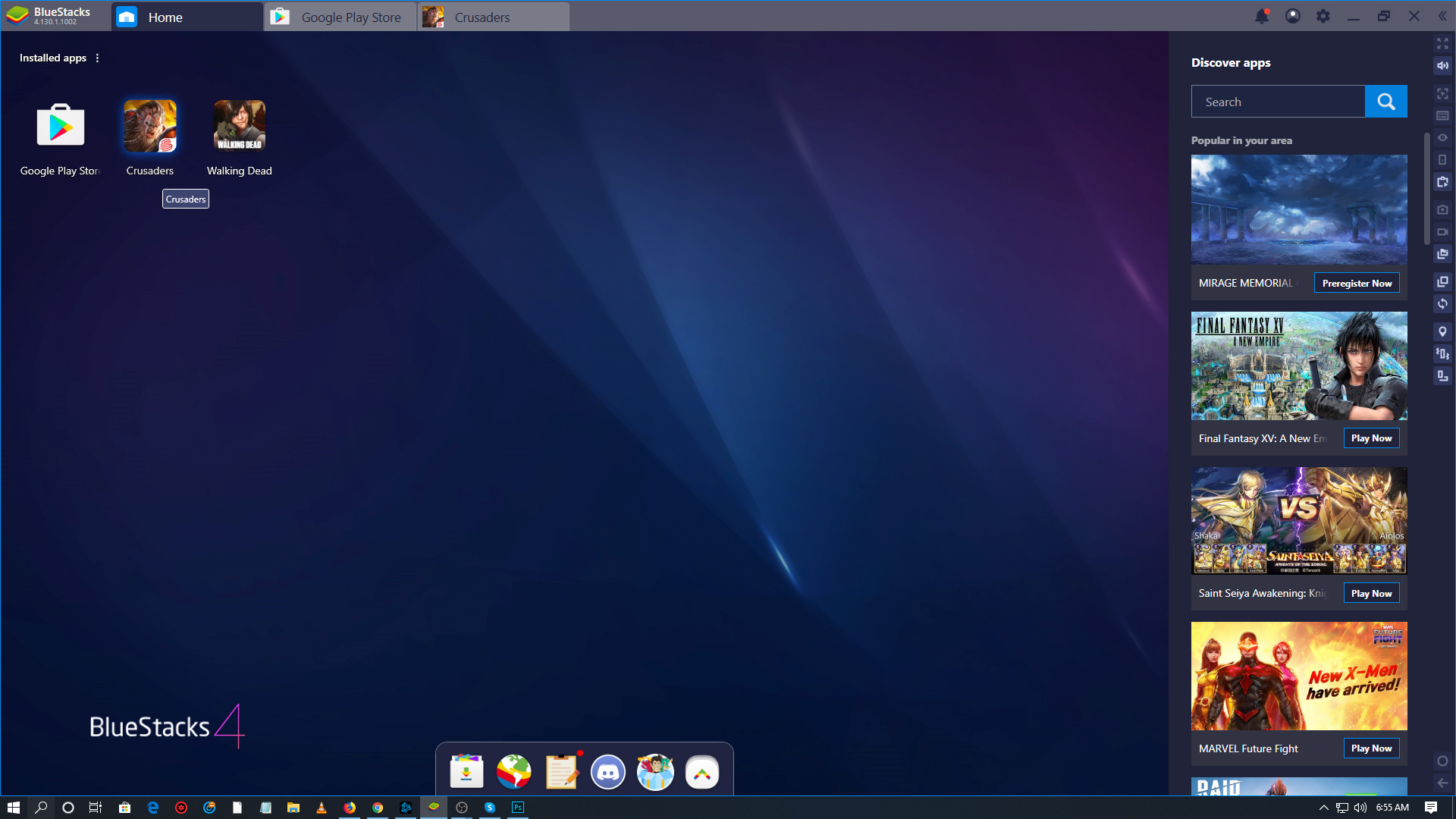 Step 5: You will notice the circle on the left side that you can actually drag around with your mouse to mimic a finger on a smartphone's touchscreen. But you are a PC user with a keyboard and mouse — so you definitely do not want to drag around the movement controls of a smartphone game. Right?
While the game is onscreen, a small keyboard icon will become interactive at the right menu of BlueStacks. Click the icon.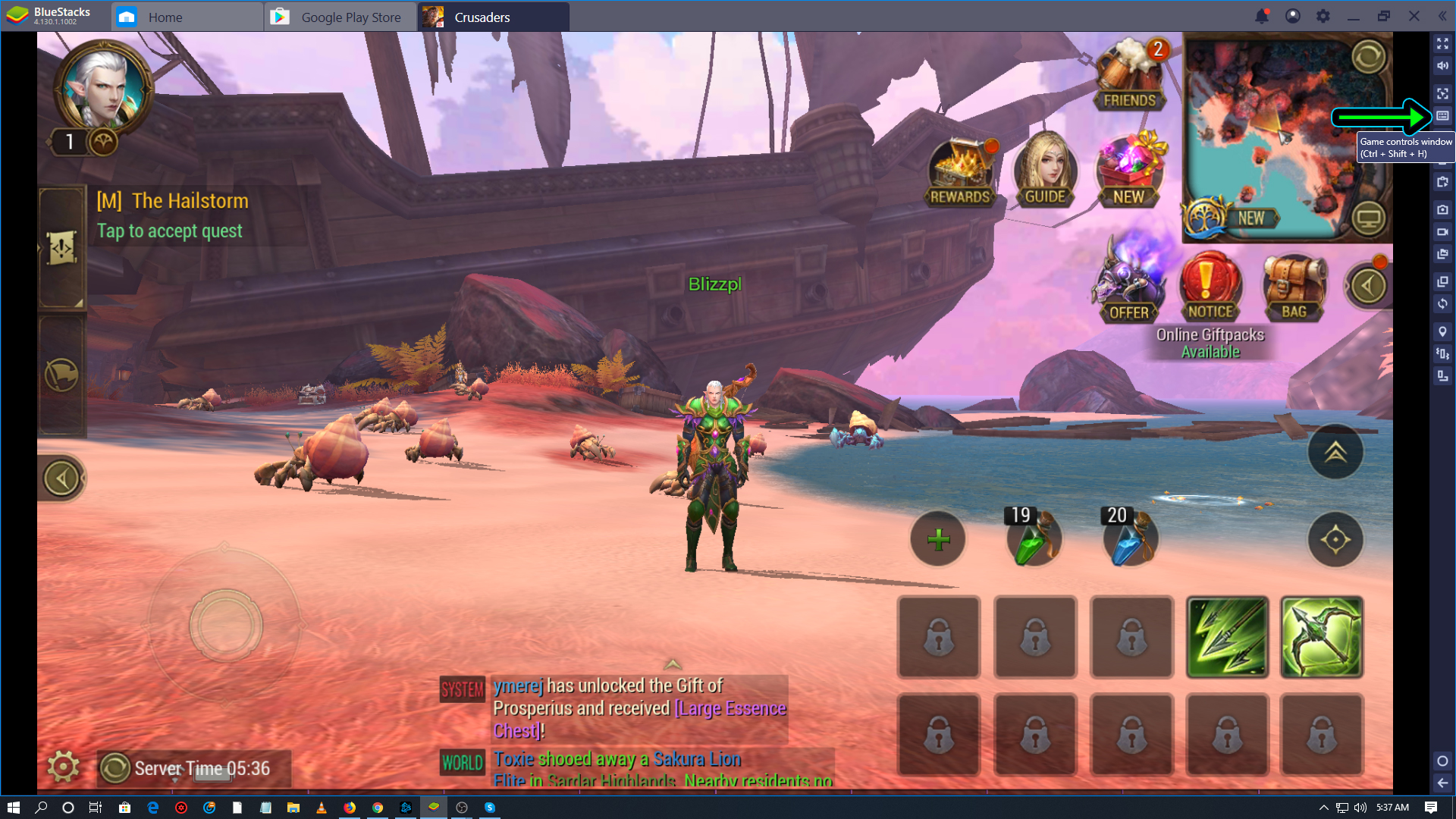 The following menu will pop on the right side of the BlueStacks window: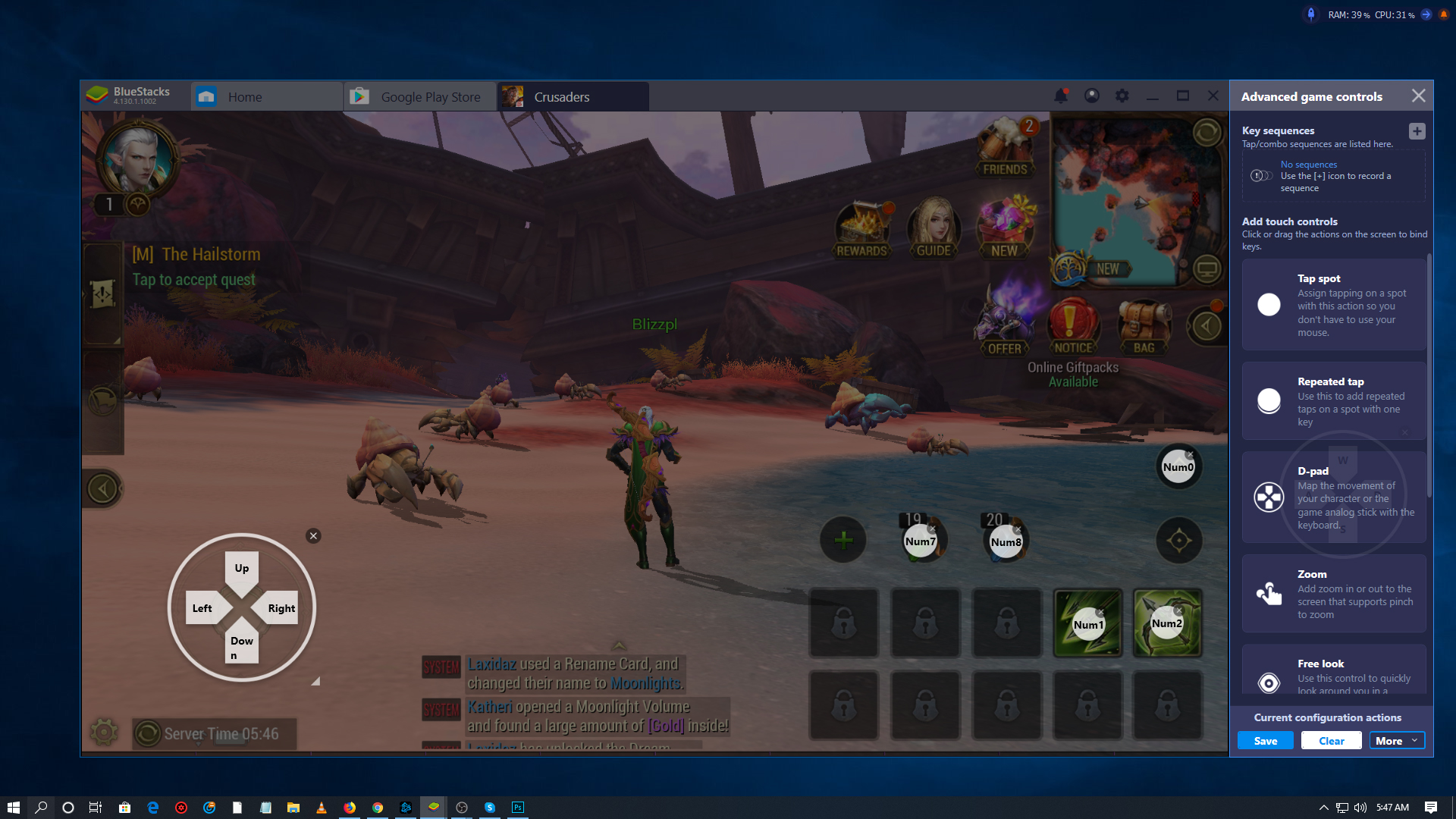 In the image above you might notice a few white shapes and keybinds. Let's focus now on the movement pad you saw on the image. You click and drag the D-Pad onto the game's pad. The arrow at the bottom-right of the D-Pad you dragged onto place can shrink or enlarge the D-Pad.
Now, let's say you want the two ability buttons onscreen to be mapped to your keyboard. You drag the Tap Spot to the place the ability icon is. Now you can press the keybind that corresponds to your keyboard button.
You do the same for the jump button.
Using the last screenshot I posted as guide, I set the Ability 1 to Num 1 in my keyboard. That way instead of using my mouse cursor to click the ability (as you normally would do on a smartphone with a fingertip) becomes translated into a keyboard mapping.
I mapped the second ability to Num 2. The health potion was set to Num 7. The mana potion was set to Num 8. The jump button was set to Num 0.
It felt very intuitive and user-friendly to map the direction buttons, and abilities. I only made a simple mapping example here. You will likely come up with something more comprehensive on your own. The video below shows you in real time how I mapped the android touchscreen buttons to my PC keyboard.
HOW TO REMAP ANDROID GAMES' GESTURES INTO KEYBOARD COMMANDS
BLUESTACKS DEMOSTRATION: CRUSADERS OF LIGHT GAMEPLAY
Personally, I have never played Crusaders of Light by NetEase. I remember someone comparing Diablo Immortal to Crusaders of Light, but after playing it, I have to completely refute that assessment. Crusaders of Light felt very automated to the point I barely interacted except partially in combat situations.
All the quest dialogues, riding/walking, and even quest objectives felt automated. It was automatically done without my interaction. The Diablo Immortal gameplay livestreams I watched didn't look anything like Crusaders of Light. I found Crusaders of Light even boring.
You will see me remapping the Android touchscreen gestures into Keyboard keybinds on the fly. I had to constantly remap them again whenever a new ability was automatically added into my spellbar, however. Hence, why I was kinda lost on what buttons I was pressing, but I doubt that Diablo Immortal will auto-assign abilities into your spellbar the way Crusaders of Light does — which should make playing Diablo Immortal on Windows 10 (with BlueStacks) much user-friendly.
In this video, I played Crusaders of Light (Android) for one hour and a half using my Windows 10 PC, keyboard, and mouse. That said, this proves that you can play Diablo Immortal on your Windows 10 PC and Mac. BlueStacks can be installed on both OS.
Click the video title (link) to watch fullscreen.
BLIZZCON 2018: DIABLO IMMORTAL GAMEPLAY VIDEOS
Now that you watched Crusaders of Light in action, please watch Bahjeera and Jen play Diablo Immortal.