Devil in the Details
Wyatt: Hey, folks! I know you probably want to know a lot more about the big features that are coming, but sometimes the major changes to the game aren't just the big ones, and we have got that coming: like the necromancer, and the Anniversary event; but sometimes the biggest changes are actually the little tiny details like…. last BlizzCon, we were talking about how the Death's Breath was yellow before, and then we were changing it to teal; and then when you go home and you play, you're like: "Oh, I'm so glad that you guys changed it from yellow to teal, the game is so much better now."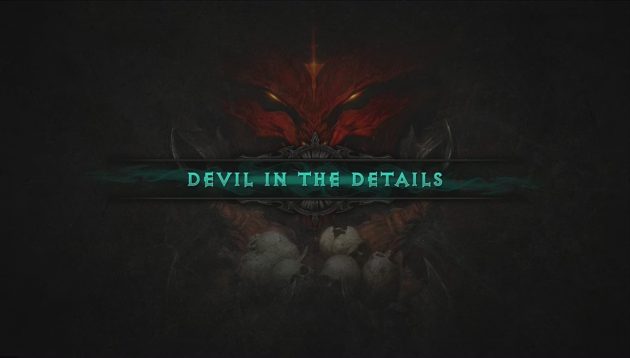 Those little changes can make a huge difference. And we've got more little changes like that coming up for you. Let's take a look at one of them now. One request that we got: "I wish each and every crafting material would be treated exactly like Blood Shards and Gold… account-wide counters that require no stashing, and no inventory management. Asks dibs."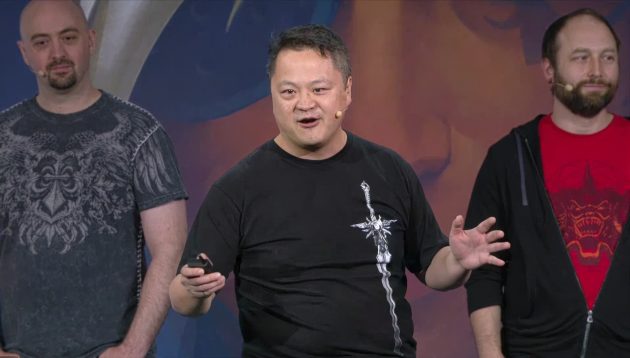 Alright! So, your stash looks like this right now. Right? You've got your yellow mats, your blue, you've got your Kanai Cube materials from all the bounties that you've run.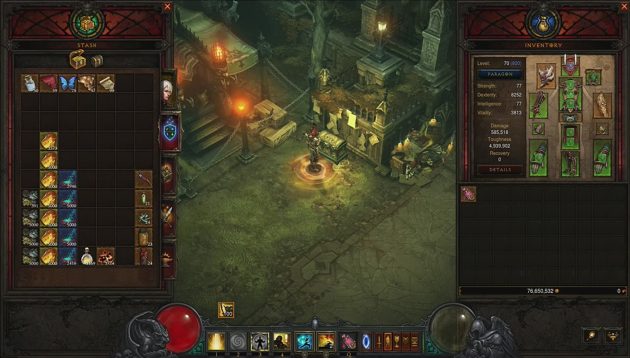 Starting in a future patch, it's going to look like this: A dedicated slot for all your crafting materials.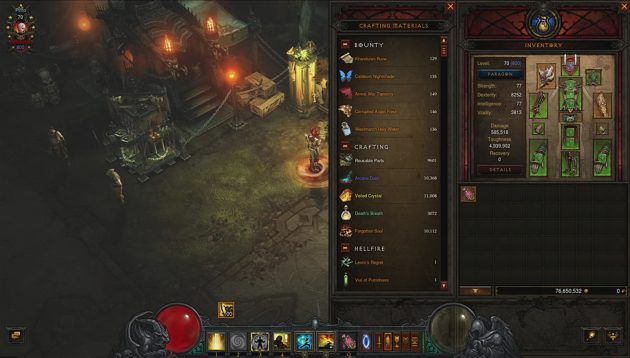 Now one of the things that's important to us is that the items still feel real and tangible. We've talked about this before. This is why instead of doing auto-pickup for a lot of the materials, we instead allowed, we added vacuum-pickup so that you still see the item on the ground, you click, and you pick it up; and we wanted to reinforce that.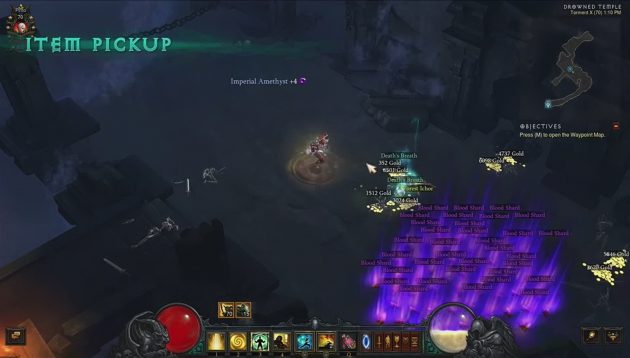 So although we're having a dedicated storage area for this we're adding counters with better floating texts that come up, and tell you what you're picking up with icons embedded right in place. This is going to apply to the Gems that you pick up, Blood Shards, all of these types of things.
While we were implementing this, we also had a challenge, but it was also an opportunity. What do we do with Kanai's Cube?
One of the requests that we often get is if there was just a single button to fill the cube up with all the materials for the recipe.
Now that we have dedicated storage for your crafting materials, it made a lot of sense to have your Kanai's Cube fill itself with a single click of a button.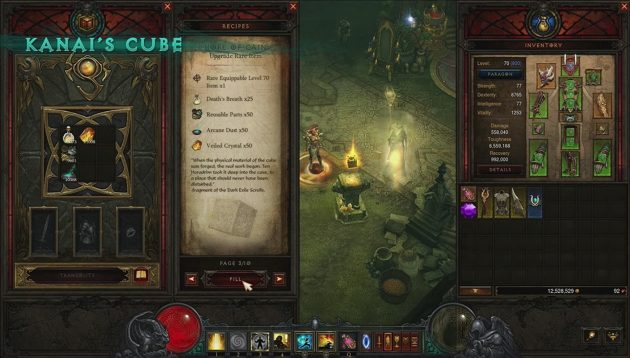 Transmogrify
Wyatt: What else have you been asking for? Like I said, it's the little things that make a big difference. Well, if the Transmogrify Artisan had a dye kiosk, she could have all the dyes, and you don't have to keep going from different vendors hoping they have a color that you're looking for.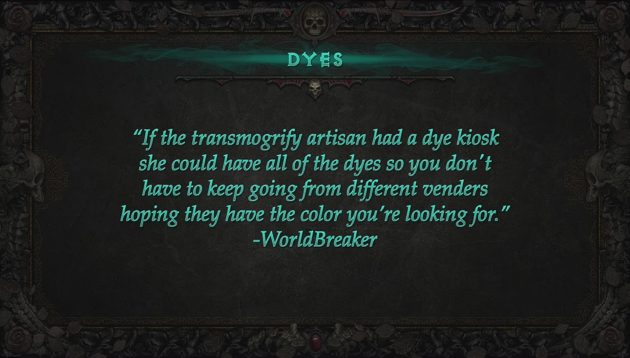 It was a request from Worldbreaker, and not just Worldbreaker, but many of you have asked for this. Well, Worldbreaker… we are going to break your world.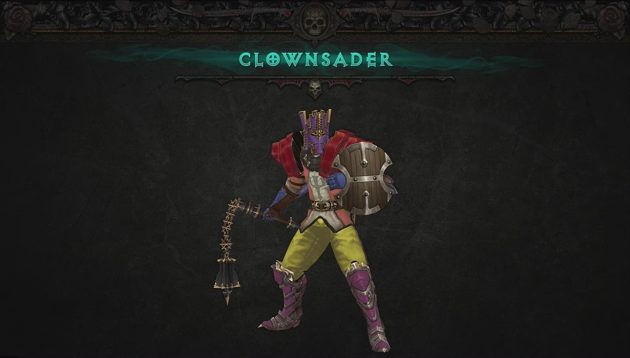 (audience laughs)
Kevin: Wyatt Cheng, ladies and gentlemen. At the Diablo Comedy Club.
Wyatt: Okay. So some of you will remember the Clownsader, from two BlizzCons ago, it is our friend Clownsader, and he's back. He wants to customize how he looks. Well, in a future patch, the Mystic is going to have an extra tab right next to Transmogrify.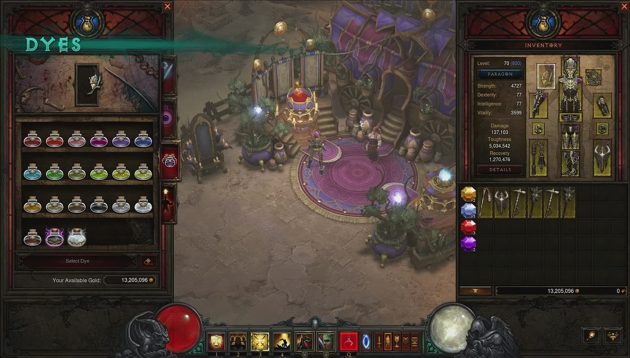 Now the Clownsader is going to have an even easier time looking super styling, you can change your chest piece, you can transmogrify to the way you want, switch over a tab, change to the color that you want, it's all there.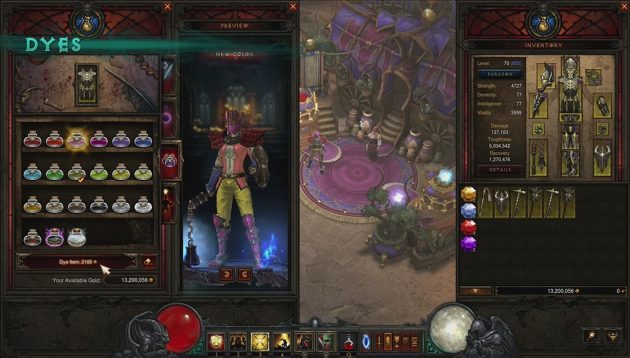 Legendary Gems
Wyatt: Alright, I know this is a big one too: "Please! Allow us to level our Legendary Gems faster."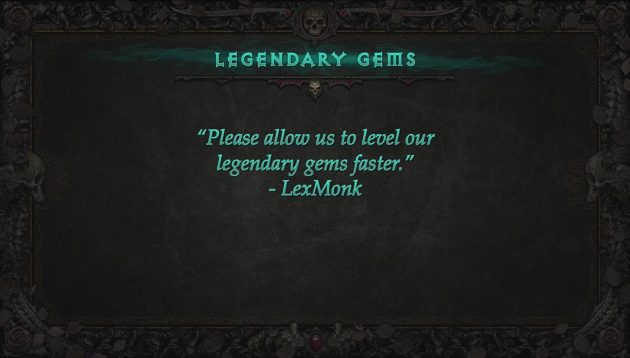 Okay, now this was a tough one for the development team, because Greater Rifts and Legendary Gems is a core part of the end-game for Diablo III. That's a core activity. We wanted to be really careful about speeding it up by too much; but we had an alternate goal that we were also looking at.
In particular we want to find sort of a way to incentivize people to stay alive. Right now, we have Softcore, we have the Normal game, and we have Hardcore; and Hardcore… It almost feels like death has an enormous penalty, but in Normal Play, it almost feels like death sometimes doesn't matter enough.
So what we're doing is starting in a future patch really soon. You're going to get another bonus roll in your Legendary Gems if you complete the Greater Rift without dying. So it looks like this.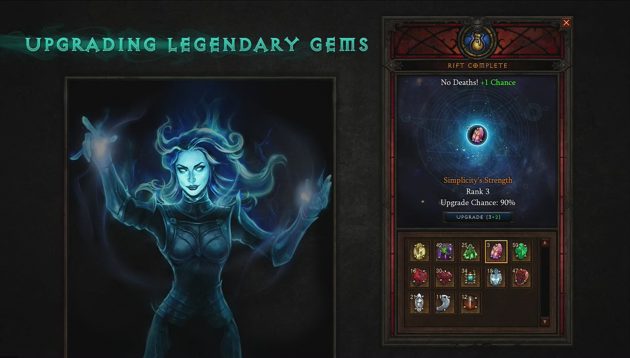 You get three rolls to upgrade if you complete the Rift. A fourth, if you empower the Rift, and if you complete it without dying: a Fifth. As you can tell, if you're Hardcore then you're going to get that fifth roll every time, unless you die, in which case you don't care anyway.
Alright, so that's great. Some small changes that make a big difference. I am going to pass it off now to Joe Shely. He is going to cover some of the changes coming to Adventure Mode.
Next: Adventure Mode