SKILLS & TALENTS
David: So let's talk about the Skill point system, as well as the Talent Tree system. These are two different systems that every class in Diablo IV will be utilizing. The goals for these are to have an entry sense of power progression during level up, as well as great player choice and customization. The skill point system is pretty straightforward as you level up. You will be earning one or more skill points for you to spend and you can use it in two ways: First is unlocking brand-new skills that you didnt have access to before; and second is ranking up existing skills to make them more powerful, and unlock new choices within that same skill.
EDITOR'S NOTE: You can view all the skills and talent tree shown at the BlizzCon 2019 Diablo IV panel here: Barbarian, Sorceress, and Druid.
Another way you can get skill points in the game is to find the skill point tome items and then you can use those items to have access to more skill points. For the Talent Tree, this is an example of the Sorceress's Talent Tree. Each tree is unique to that class.
So this is just one example of one of the classes. So you work your way from top to bottom, making yourself more powerful as you go down the tree; and not only that, you will be able to make very specific playstyle choices to your liking so that you have full customization option; and of course, at the bottom of the tree are the strongest talents in the game.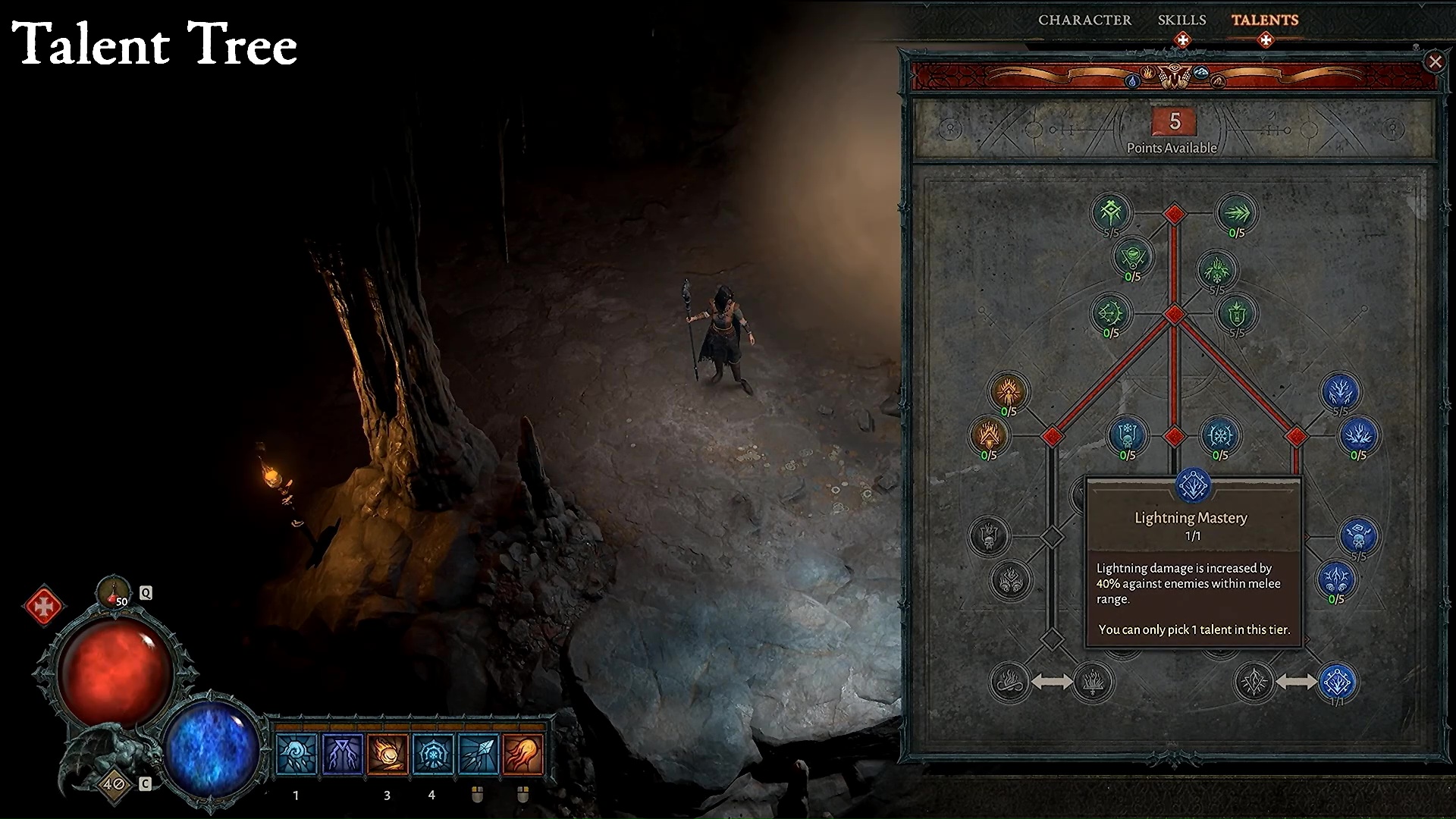 This is one of six that the Sorceress can choose from, and it is a fairly simple one, but we have a lot of choices ranging from simple to more complicated playstyles. So this one increases the Lightning damage against enemies within melee range. So naturally this would combo very well with a spell like Charged Bolts, and you can because it is a returning skill in Diablo IV.
So let's take a look at the full of how you would go about spending points and unlocking new tiers. So as you can see this is how the Talent Tree system works; and this time around I am going down the cold tree. So let's take a look at one of the options at the bottom. Endless Winter — so instead of Chills leading to Freeze, you gain a massive damage bonus instead. So you can kind of imagine if I am not going for that freeze playstyle I can choose something like this to get a different benefit instead.
MORE DETAILS ON CLASSES
So one last thing I want to mention about classes is there are even more details about skills as well as talents in the demo, so if you are here at BlizzCon, please be sure to check that out if you are interested in that kind of thing. If you are not here, please check out the streamers streaming live from BlizzCon to learn more about classes. Thank you and I will hand it over to Angela for talking about all the cool stuff coming to the open world of Diablo.
EDITOR'S NOTE: You may read all the things I learned from watching gameplay streams in my analysis, and I also embeded gameplay videos from several livestreamers here.
NEXT: SHARING THE OPEN WORLD