UPDATE: The ASUS ROG Phone 2 became available in the United States on September 24th. You can order it now.
---
Those who don't have a phone, or plan to play Diablo Immortal (or give it a try) might like to hear that ASUS plans to reveal details about the ASUS ROG Phone 2 on July 23. It is confirmed that the device will be sold in China the same day.
So far the following details have leaked through the TENAA certification website.. the ASUS ROG Phone 2 consists of a 6.59″ AMOLED 18:9 display with 120Hz refresh rate (adjustable between 60Hz, 90Hz, or 120Hz); a 5,800mAh battery with a 30W fast-charger; the Qualcomm Snapdragon 855 Plus octa-core 7nm SoC clocking at 2.95Ghz; and Android 9 (PIE). At least two models have been approved by the TENAA Certification in the range of 8GB RAM and 12GB RAM. In terms of internal storage, the TENAA Certification lists three options: 128GB, 256GB, or 1TB.
Pricing is rumored to start around $640 (roughly translated from Chinese currency). We will have to wait until July 23 at an event in China to learn more details. ASUS is also slated to showcase the ASUS ROG Phone 2 at the ChinaJoy 2019 expo on August 1 in Shangai.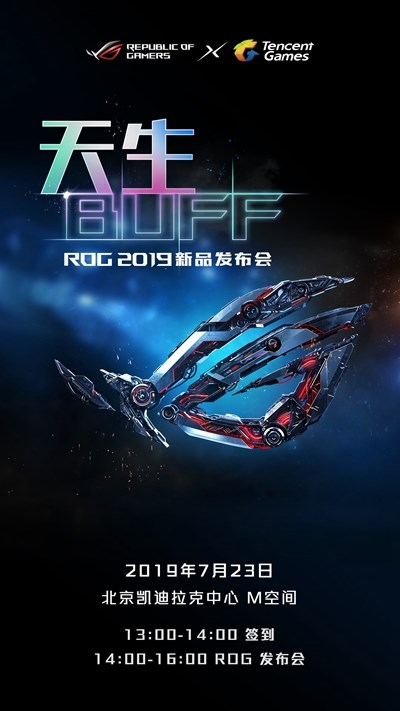 Geekbench already has results for the ASUS ROG Phone 2.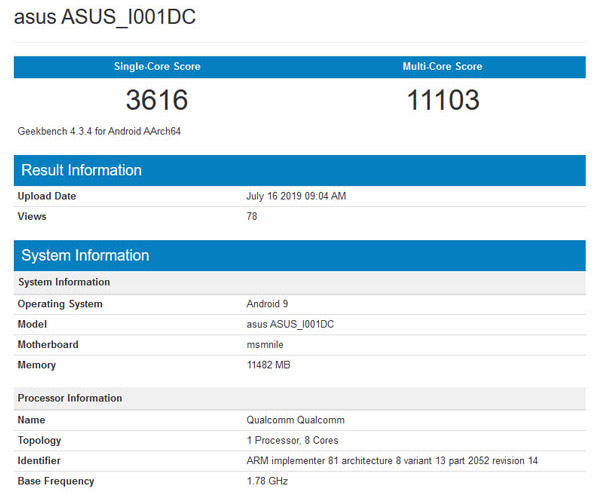 Another image in chinese shows what looks like screen resolution: 2340 x 1080 OLED.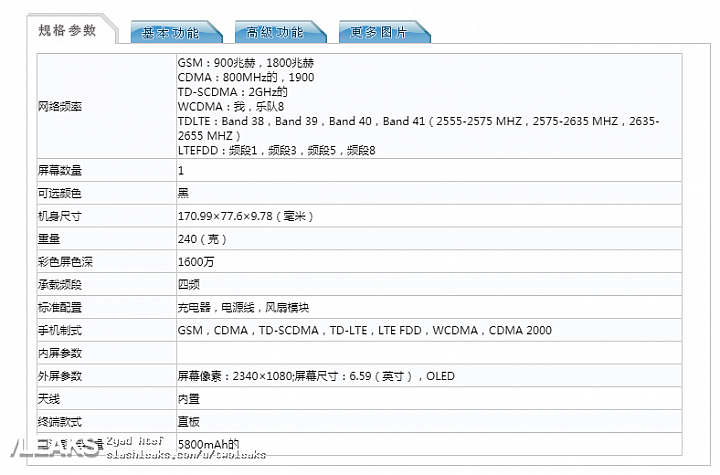 UPDATE: ASUS OFFICIALLY ANNOUNCES ASUS ROG PHONE 2 SPECS
July 22, 2019
Press Release: Just over a year ago, the Republic of Gamers infused our battle-hardened DNA into a phone for the first time ever. Now it's time to power up and go beyond. The ROG Phone II incorporates everything we've learned from our first foray into high-end gaming phones and then some to create another pocketable gaming powerhouse.
Flagship phones can be hard to tell apart nowadays, but we know that members of the Republic of Gamers want to stand out in more places than mobile leaderboards. Our designers created a body that strikes just the right balance between classiness and boldness.
A hard-anodized, matte black metal band forms the core of the phone, while sheets of Corning Gorilla Glass 6 sandwich the front and back of the device. We curved the edges of the back glass to make the ROG Phone II more natural to hold in normal use. A 6.59" diagonal screen size makes this one of the larger phones around, but its 19.5:9 aspect ratio means that it remains comfortable to use in one hand.
The front of the ROG Phone II is mostly businesslike when the screen is off. A pair of copper accents at the top and bottom of the device are the only outward clues to its identity on the front side. You could set this phone face-up on a conference room table and nobody would be any the wiser about the power concentrated inside.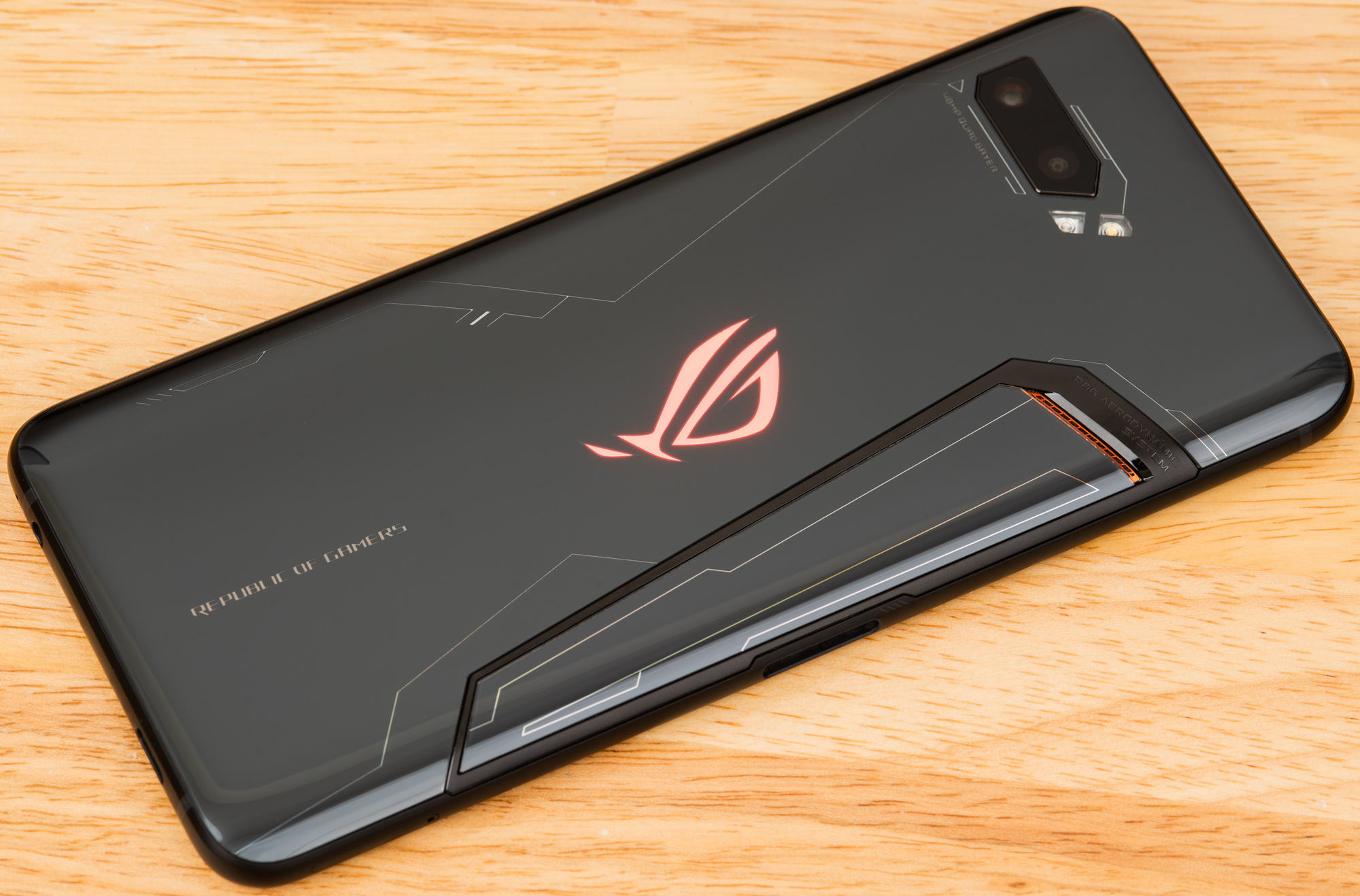 The real fun starts on the back of the phone. Subtle holographic inlays accentuate the angular openings for the twin camera system and dual-tone LED flash. Another matte-black accent draws the eye to the copper vent for the massive cooling system hidden inside the device. Buyers outside of China will get a version of the phone finished with a matte texture rather than the mirror gloss of the model you see above.
Recruits to the Republic of Gamers can broadcast their allegiance with an Aura-powered RGB LED logo inlaid in the back glass. This silvery logo looks subtle enough when its LEDs are off. Fire up Aura through the pre-installed Armoury Crate utility, and you can make this logo glow with many of the lighting effects you already know from our motherboards, laptops, and peripherals. The RGB LEDs behind the logo get just bright enough to make your ROG allegiance known, but they won't sear retinas in the dark.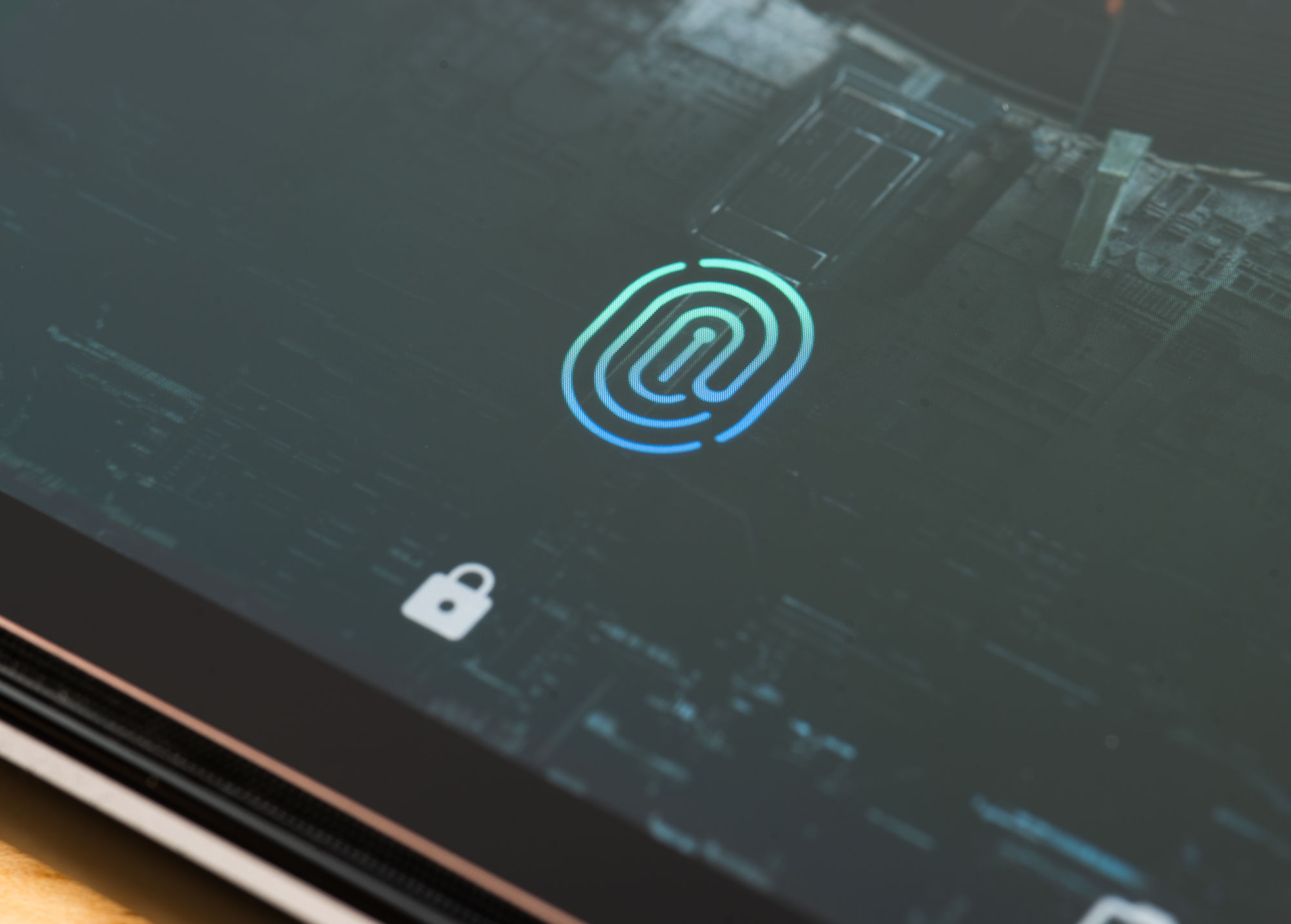 You'll note that the ROG Phone II lacks a visible fingerprint sensor. We've taken advantage of the latest developments in biometric tech to embed one under the screen. Not only does this change make for a cleaner-looking exterior, it also means you can use your thumb or finger for authentication when the phone is sitting on a table or desk.
Bezels may be an endangered species on high-end smartphones these days, but they still have their place. The ROG Phone II uses slim bezels at the top and bottom to make room for its powerful sound system and optimally positioned front camera. To keep the front of the phone looking sharp, we made sure to maintain symmetry between the two bezels, as well.
Twin speakers with DTS:X Ultra processing pump out crisp audio for games, movies, or music. For situations where you need to game in private or just want to listen through your favorite cans, we conserved another critically endangered species: a dedicated 3.5mm headphone jack. You're welcome.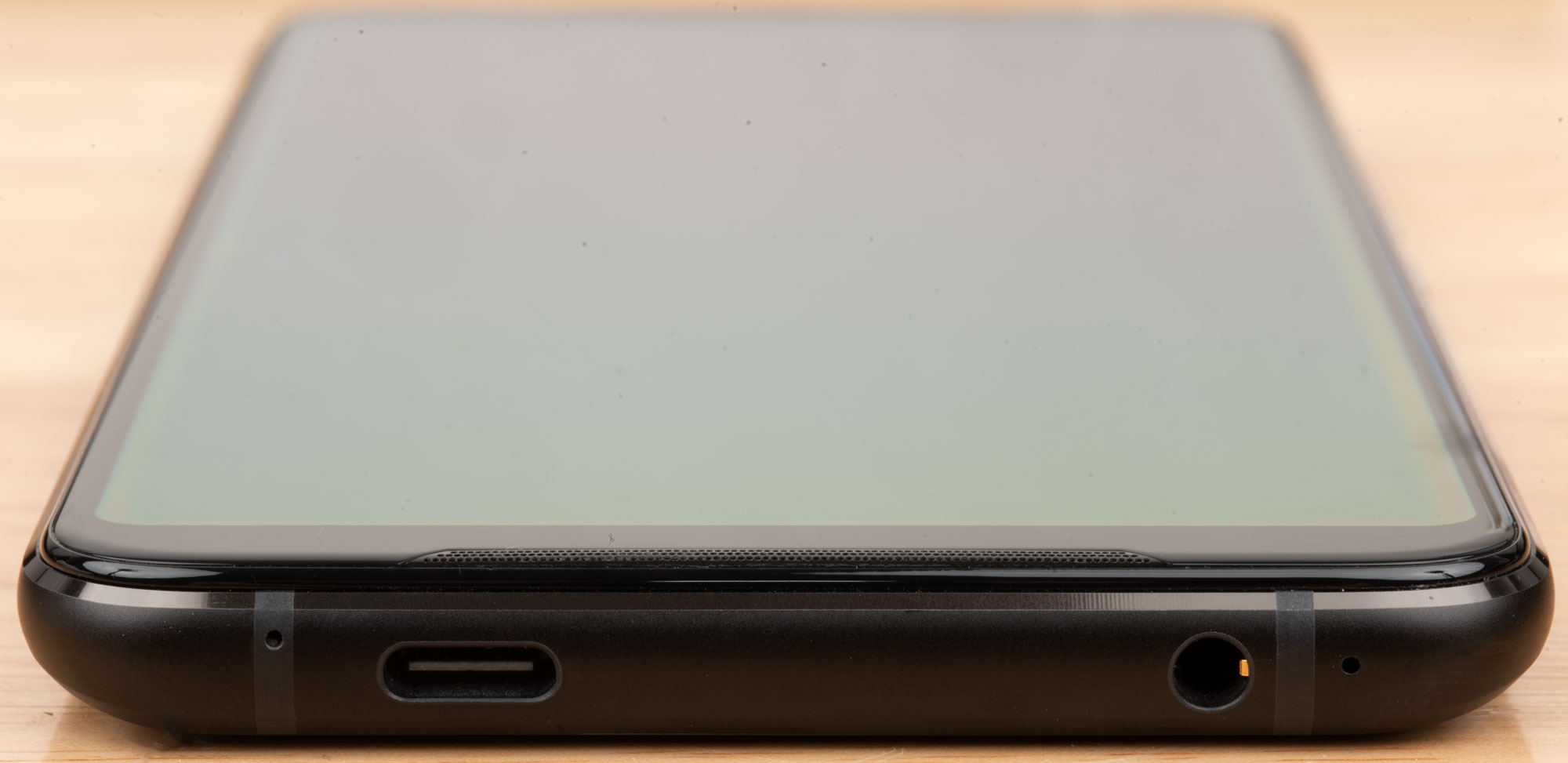 USB Type-C ports and cables are thriving, and we're embracing these reversible wonders once more on the ROG Phone II. You'll find one USB Type-C port on the bottom of the device, but we didn't stop there. Most demanding mobile games play out in landscape mode, and a charging cable plugged into a typical bottom-facing port would interfere with players' right hands in that orientation.
The ROG Phone II has a massive 6000mAh battery for extended gaming away from a wall socket, but in the event that you need to top up the phone in the heat of battle, we put a second USB Type-C port on the left edge of the device. Any wires plugged into this secondary port won't get in the way of frenzied action.

Even better, the side port can move data at up to 10Gbps using USB 3.1 Gen 2, and it can output 4K video using DisplayPort 1.4. You can use Qualcomm Quick Charge 3.0, Quick Charge 4.0, and USB Power Delivery 3.0 adapters with the side port to juice up the ROG Phone II in a flash. The bottom Type-C port supports USB 2.0 transfers, plus fast charging via Quick Charge 3.0 and USB Power Delivery 3.0 adapters.
A separate, proprietary connector next to the side USB Type-C port lets us hook up accessories like the TwinView Dock II, the Mobile Desktop Dock, and the included ROG AeroActive Cooler II. We'll have more details on the rich family of accessories for the ROG Phone II soon.
The Snapdragon 855 Plus powers up for mobile gaming dominance
The next stop on our journey to mobile gaming superiority is the very heart of the ROG Phone II. Whether on PCs or phones, games need as much single-threaded CPU performance as they can get to run at their best. We've teamed up with Qualcomm once again to put the highest-performance Snapdragon Mobile Platform possible in the ROG Phone II: the Snapdragon 855 Plus.
The Snapdragon 855's Prime Core already pumped up single-threaded performance with the highest clocks and largest L2 cache on the chip, and the Snapdragon 855 Plus' Prime Core goes even further. This extra-beefy core boosts clocks from 2.84GHz to 2.96GHz for even more performance and responsiveness from games and apps.
More single-core CPU performance is exciting indeed, but GPU power is even more important for the most demanding mobile gamers. Qualcomm's Adreno 640 graphics processor is muscular to begin with, but the version in the 855 Plus can bring even more strength to bear on mobile games. The 855 Plus' Adreno 640 GPU can run at up to 672MHz, a whopping 15% increase over the regular Adreno 640's 585MHz clocks. That increase means more computational strength for higher frame rates or more complex graphics effects. We pair the Snapdragon 855 Plus with a desktop-class 12GB of LPDDR4X RAM to provide both high capacity and high bandwidth, as well as up to 512GB of UFS 3.0 storage for lightning-quick app installs and game loading.
Our quest for performance didn't end when we drafted the Snapdragon 855 Plus for the ROG Phone II, though. Far from it. These days, the most intense mobile games aren't over in a minute or two. As more complex titles like PUBG and Fortnite migrate to phones, matches can last over ten minutes. While that may not sound like much time under load for a desktop or laptop PC, it's practically an eternity for a passively cooled phone. Running high-performance mobile silicon for long periods can result in performance-killing throttling if chips aren't properly chilled.
The Snapdragon 855 Plus' 7nm lithography ensures that the chip is power-efficient and cool under pressure to begin with, but we don't take anything for granted. Poor cooling means sudden drop-offs in frame rate and increases in input latency, and those are sure ways to lose that chicken dinner. We wanted to be certain that the ROG Phone II would never slow down in the heat of battle.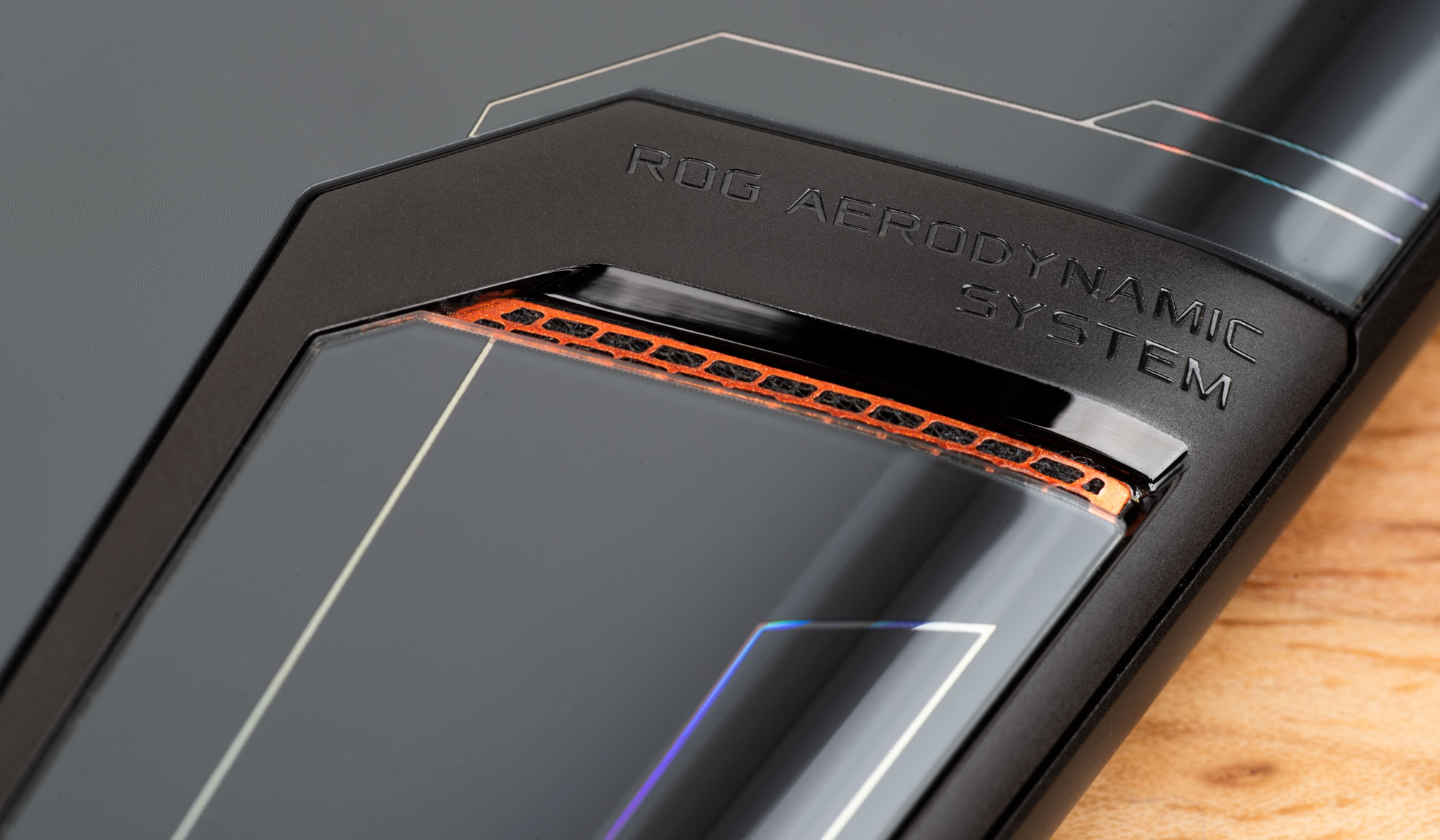 The GameCool II heatsink system inside the ROG Phone II uses a 3D vapor chamber capable of dissipating as much as 7.5W of waste heat. We give the GameCool II system room to breathe with a strategically-placed vent to the outside on the rear of the phone, too. That level of thermal dissipation is glorious overkill for the Snapdragon 855 Plus, and it ensures that the ROG Phone II can run games and demanding applications at full speed for as long as your thumbs can keep up.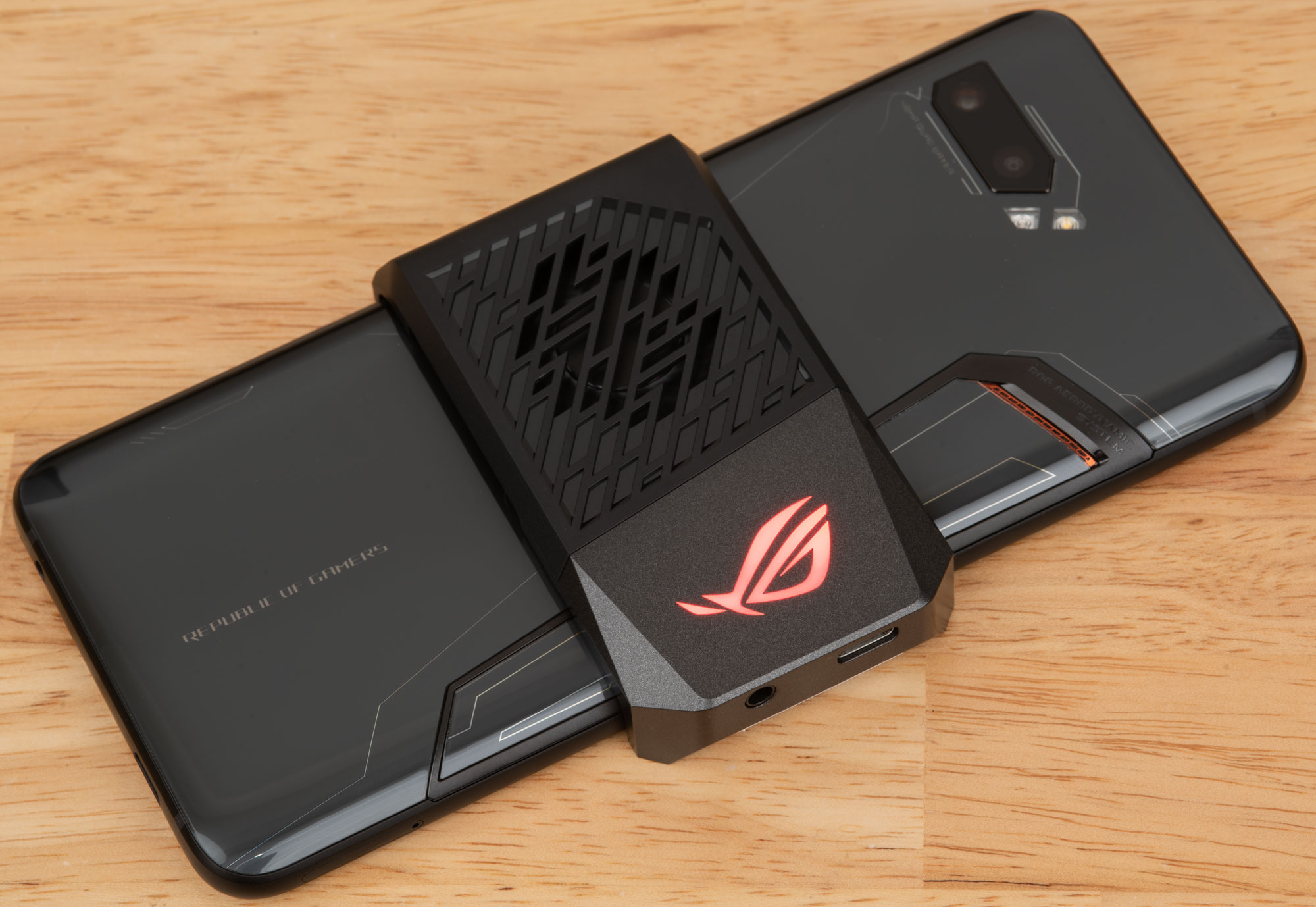 If you live in especially warm climates or just want extra insurance against performance loss, the ROG AeroActive Cooler II stands ready to provide active cooling for the ROG Phone II. This clip-on fan directs airflow to the hottest part of the phone's rear cover, potentially lowering surface temperatures as much as 3.5 degrees Celsius and bolstering performance consistency.
Even if high ambient temperature isn't a concern for you, the airflow from the AeroActive Cooler II feels nice on sweaty palms as in-game action reaches a fever pitch. Dry skin means you can keep a surer grip on the ROG Phone II as you charge toward victory.
The AeroActive Cooler II plugs into the landscape accessory connector, but it doesn't get in the way of charging or audio. We thoughtfully include USB Type-C and audio passthrough jacks to let you keep cool and stay in the game all at once.
TRUE COLORS
Gamers intuitively understand that higher frame rates equal a competitive advantage, but high-frame-rate gaming on phones isn't as simple as it is on desktops or laptops. Most mobile games use vertical sync, or vsync, to eliminate ugly tearing artifacts. That means the maximum refresh rate of a phone's display can put an unbreakable ceiling on how many frames per second it can usefully generate. For example, a 60Hz display means that with vsync on, 60 FPS is as fast as a game can ever run.
We aren't satisfied with a 60 FPS limit on any device, hence the original ROG Phone's 90Hz refresh rate. We're always looking for ways to push the limits, though, so the ROG Phone II takes a page from high-end TVs and gaming monitors with its 120Hz OLED panel. This is no average OLED phone screen, mind. It's capable of showing HDR videos and games in all their glory.
To balance crisp reproduction of text and images with the amount of GPU power available to run the latest mobile games, we chose a 2340×1080 resolution for the ROG Phone II. In landscape mode, the screen is over twice as wide as it is tall. That exceptionally wide vista brings the latest ultrawide gaming monitors to mind, but going wide has a different purpose on a phone than it does on a desktop display. More on that in a second.
HDR may sound like overkill for a relatively small phone screen, but we want gamers to be able to enjoy this revolutionary technology anywhere. HDR content lets creators capture and reproduce brighter highlights and darker shadows than ever before. The perfect blacks and per-pixel illumination inherent to OLED tech are a great match for HDR content. A higher dynamic range for video needs a wider color gamut to maintain precise reproduction, too, so we made sure that the ROG Phone II can reproduce 108% of the wide DCI-P3 color gamut commonly seen in digital cinema projectors.
To ensure that HDR content looks just like its creators intended, we target an average Delta E of less than 1 for the ROG Phone II. Delta E is a measurement of deviation from a reference standard for color, and even high-end monitors do well to achieve a result that's less than three, on average. This level of color accuracy in a mobile display is quite something, to put it mildly.
On top of its superior color gamut and dynamic range, the OLED panel in the ROG Phone II has a pixel response time of just one millisecond – similar to the response time of our fastest desktop gaming monitors. Pixel response time is directly related to the perceived blurriness or smeariness of images in motion, so a 120Hz refresh rate combined with such incredibly low response times ensure that gamers will see a clearer picture of the action on the ROG Phone II than they might on competing devices that still use LCDs.
HDR gaming is in its infancy on phones, but HDR video is relatively abundant online through a variety of streaming services. The ROG Phone II can play back HDR content from YouTube, Netflix, Amazon Prime Video, and Tencent Video. When you want to take a break and enjoy the latest movies on the train or on long flights, we've got your back.
MIDAS TOUCH
Mobile games that run primarily in landscape mode might have on-screen controls that obscure a portion of the action, leading some gamers to break out a wireless controller for their favorite titles. When you're just trying to get in a quick round, though, it can be a drag to pull out and pair a dedicated controller. The ROG Phone II's ultrawide screen offers extra breathing room for onscreen controls, so you can get in the game faster and survey more of the action happening on the battlefield than on phones with a 16:9 aspect ratio.
Displaying more frames per second isn't much good if gamers can't react quickly to the information they're seeing, so the touch sensor matrix atop the screen samples input at 240Hz. That's twice as many times per second as competing devices can manage.
Registering input at such a blistering rate is only the beginning in the entire rendering loop, though. We also optimized the entirety of the motion-to-photon pipeline on the ROG Phone II for the lowest possible latency. Thanks to its exceedingly keen senses and smarts, this phone can go from motion to photon – for example, from tapping an onscreen trigger to displaying a gunshot – in as much as 35% less time versus competing devices. In games where milliseconds separate victory and defeat, that's an undeniable competitive advantage.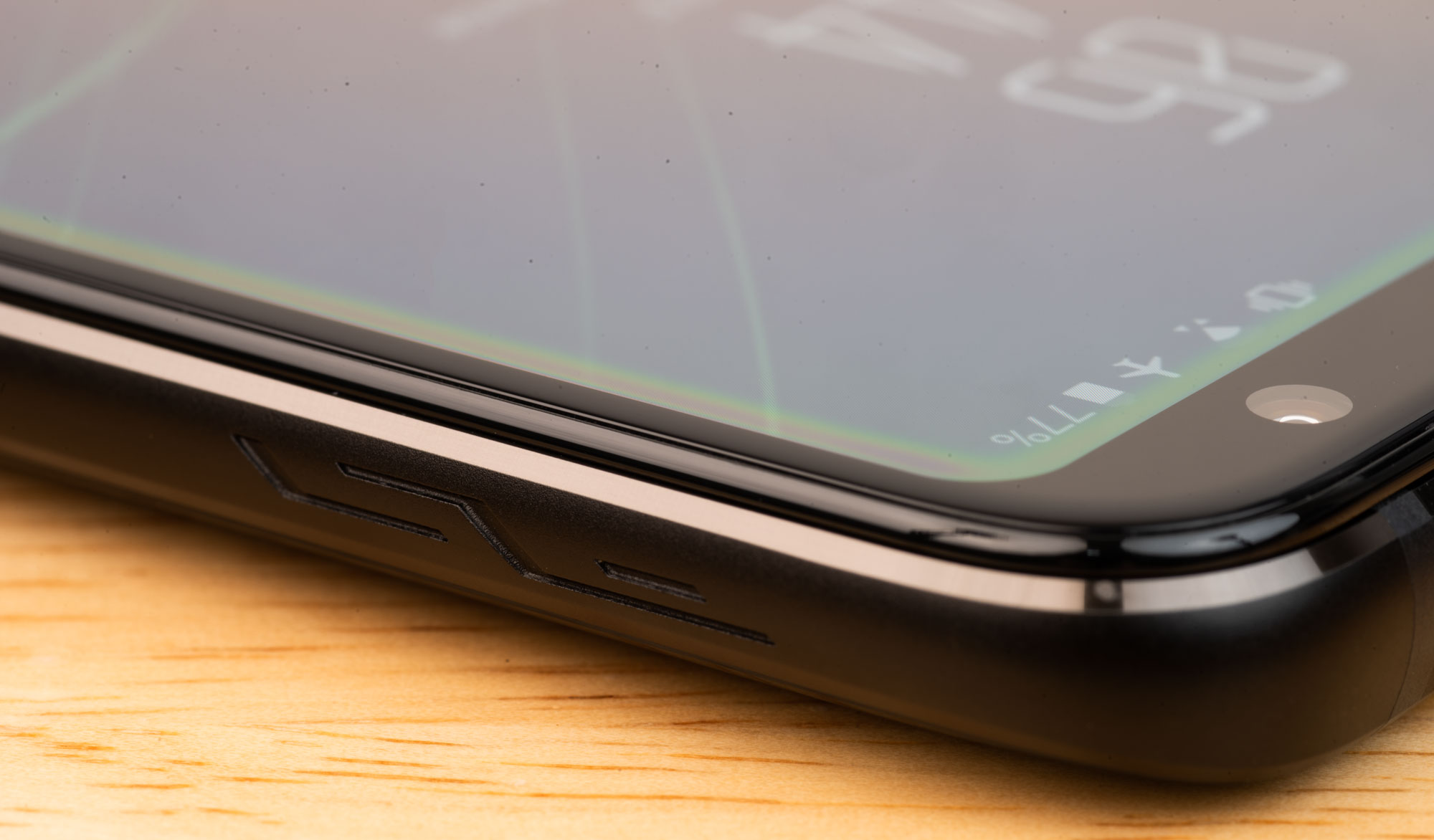 On-screen controls can work fine for many mobile games, but actions like firing a weapon can still benefit from the assurance that hardware buttons offer. To strike a balance between on-screen controls and a dedicated hardware controller, the original ROG Phone introduced haptic AirTrigger technology on its edges to give demanding gamers dedicated control points for the most critical inputs.
The second time around, we brought the same latency-slaying thought process we applied to the phone's display pipeline to these input points. Our first victory over meddlesome latency comes from an improved software algorithm that lets you rest your fingers directly on the AirTriggers for virtually zero time lost to finger motion. Even better, the AirTriggers confirm input with haptic vibrations in as little as 20ms, compared to 63ms on the original ROG Phone. Altogether, these improvements mean gamers can pull the AirTriggers quicker and get feedback far faster than they could even on the already impressive ROG Phone.
CAPTURE YOUR MOMENTS OF TRIUMPH
Whether you're taking pictures of your latest triumph on stage at esports tournaments or holding your phone high above your head at those events to catch your favorite players' victories, you need a camera that won't let you down. The ROG Phone II is ready to capture your moments of glory with a twin-camera system at the rear and a streaming-ready selfie cam at the front.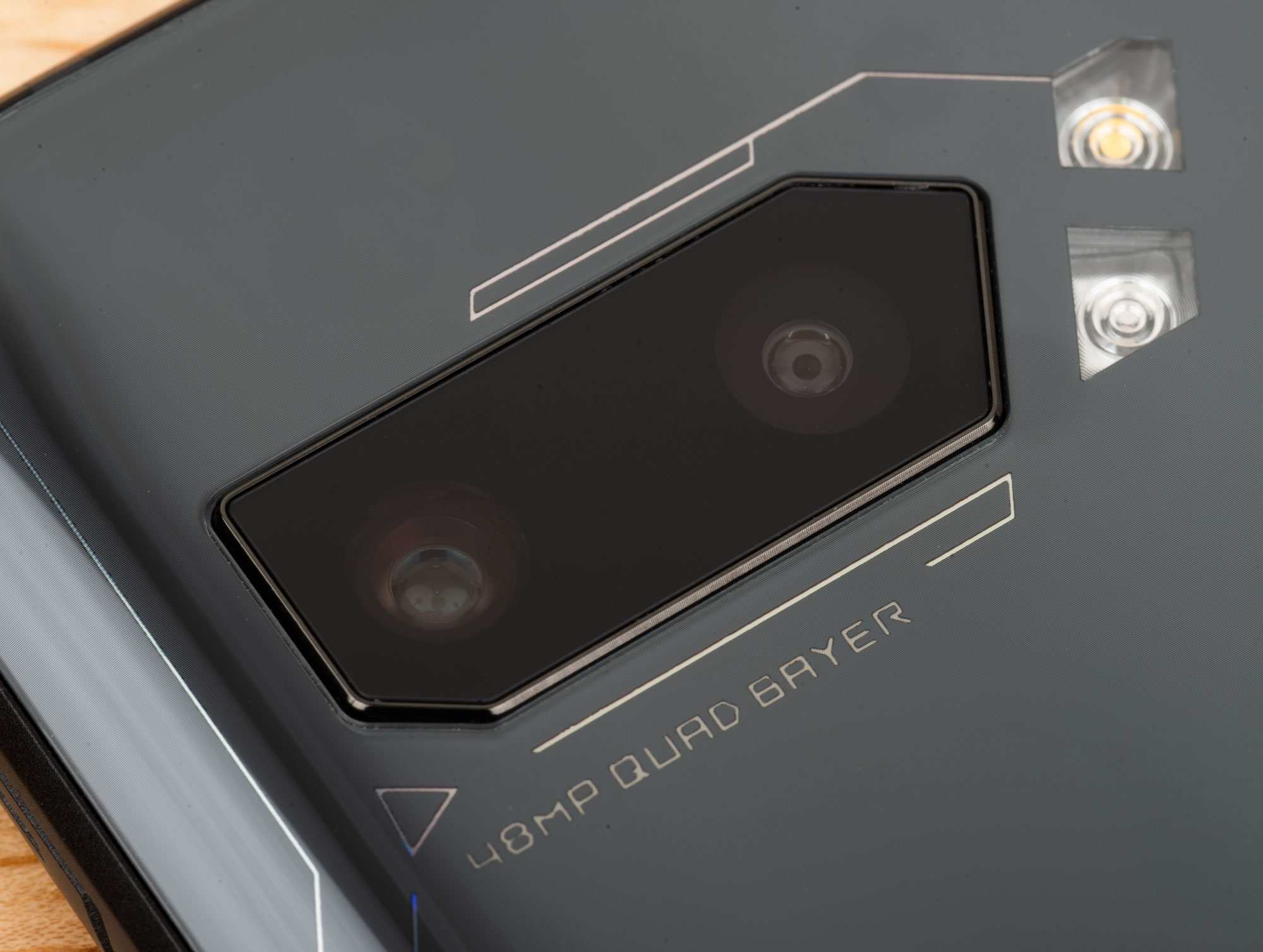 The primary camera on the ROG Phone II uses Sony's Exmor IMX586 image sensor as its bit bucket. The IMX586 can be set to capture an incredible 48 megapixels in ideal lighting conditions, but its real ace in the hole comes from its ability to group the data from 2×2 quads of pixels together to produce high-quality 12MP images. We pair the IMX586 with a fast f/1.79 lens that directs plenty of photons to the sensor even in low light. That versatility means that whether you're outside a tournament venue with fans or inside on stage, the main camera on the ROG Phone II will always be ready to capture your best moments.
Most of the time, you'll find that the main camera's 26mm-equivalent lens offers plenty of versatility for everyday scenes. Sometimes, though, a mild wide lens simply isn't enough. Maybe you're at The International or ESL One and you want to convey the enormity of those unforgettable events in your shots. Maybe you've found yourself right up against the edge of the stage and want to communicate just how up-close-and-personal you are. Whatever the case may be, you need to go wider.
The ROG Phone II can cover all of those compositional bases with its second camera. Our engineers paired a separate 13MP sensor with an ultra-ultra-wide lens that offers an incredible 11mm equivalent focal length. Assuming you could even find a lens with a similar field of view for your interchangeable-lens camera, it's likely that glass would be quite bulky and run many thousands of dollars on its own. The ROG Phone II puts the dramatic storytelling power of such a lens right in your pocket.
No matter whether they're mounted on a big-boy camera or on a phone, ultrawide lenses can introduce large amounts of linear distortion that can be unpleasant or jarring unless you carefully manage it as you compose. The ROG Phone II neatly sidesteps this problem with real-time distortion correction that lets you compose and shoot using a what-you-see-is-what-you-get view. The final image keeps straight lines straight, another perk that you'd normally need the DSP prowess of a pro mirrorless or DSLR camera to enjoy.
We didn't leave the front camera out of the game as we polished the ROG Phone II's image-capturing prowess. Mobile gamers take plenty of selfies, but their needs don't stop there. For Twitch personalities with large audiences to satisfy, streaming regularly isn't optional—it's mandatory.
If you're a pro gamer and pro streamer who wants to catch up with your community from a hotel room the night before a big event, or if you're just away from your PC and want to surprise your audience when you have a few minutes to spare, the ROG Phone II can be the go-between as you fire up Fortnite or PUBG.
We specifically laid out the front of the device to accommodate the needs of anywhere, anytime streaming. Phones with minimal notches often use front cameras placed in a centered, teardrop-shaped cutout, but that design is vulnerable to being blocked by a player's hand or fingers if they're trying to use the front camera as a face cam.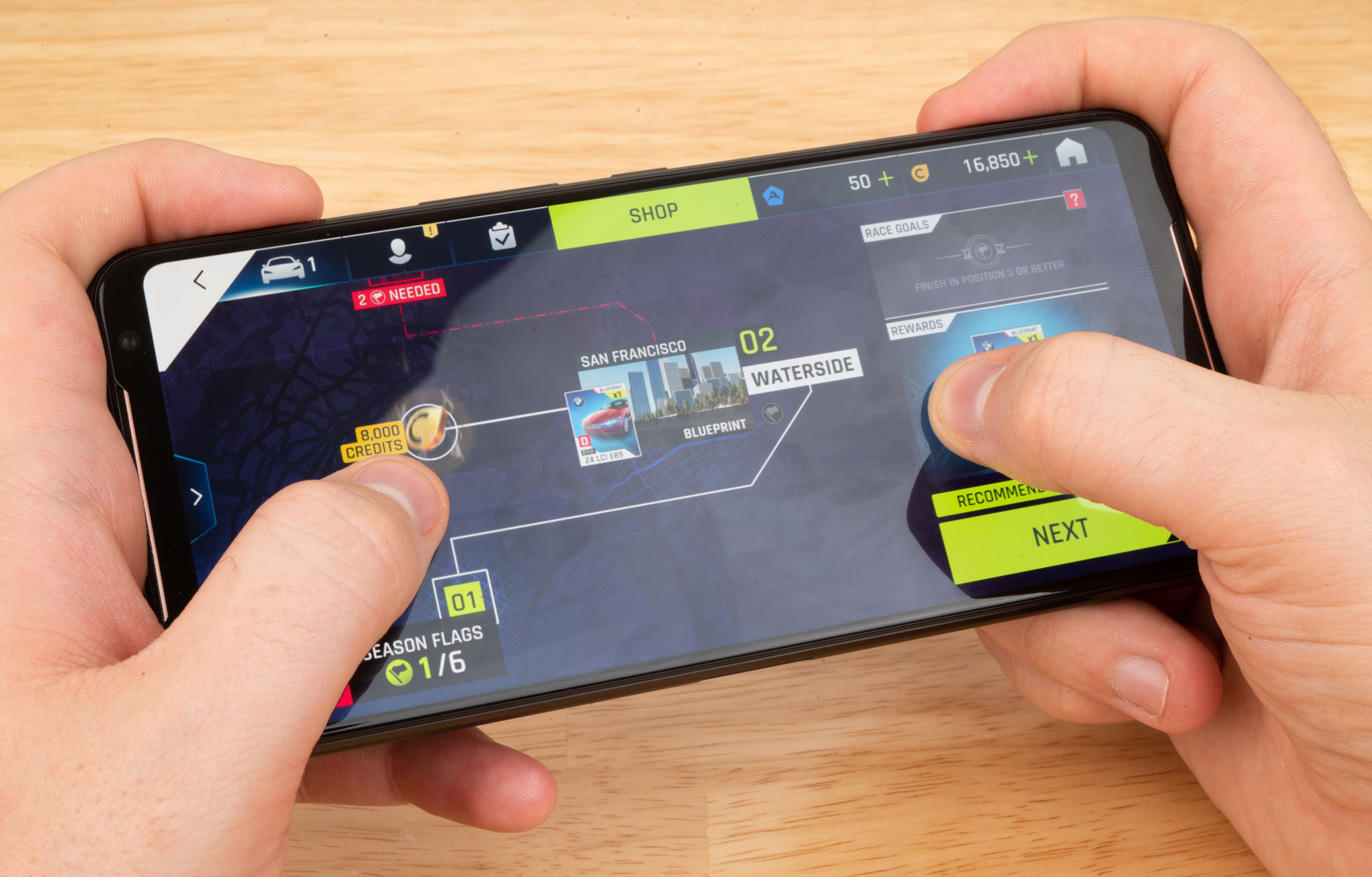 To ensure mobile streamers can give their audiences a clear view of their faces at all times, we kept a minimal bezel at the top of the ROG Phone II so that we could position the front camera with an optimal offset. The front camera lets you use your favorite title's on-screen controls without blocking the lens. You can play as hard as you like without obstructing your fans' view of your face as you grit your way to glory.
EVERY INCH A WINNER
The Republic of Gamers' engineer corps knows better than anybody that gamers want hardware without compromises. Get your hands on the ROG Phone II, and we think you'll agree that we've succeeded in forging a phone that's not just great at games—it's great, period. Whether we consider its top-shelf Snapdragon 855 Plus SoC, its fast, bright, and colorful screen, the onboard low-latency triggers, a thumping sound system, ready-for-anything cameras, or practical, problem-solving design touches, it's obvious that we kept the needs of serious mobile gamers and the dreams of hardware enthusiasts in mind as we laid out every millimeter and selected every component of the ROG Phone II.
ROG Phone II
Application processor
Qualcomm Snapdragon 855 Plus
Graphics processor
Qualcomm Adreno 640 at up to 672MHz
Display
6.59″ AMOLED, 2340×1080 resolution, up to 120Hz refresh rate, 240Hz touch sampling, 1ms response time, 108% DCI-P3 color gamut, 10,000:1 contrast ratio, HDR support
Dimensions
(H x W x D)
170.99 x 77.6 x 9.78 mm (6.73″ x 3.05″ x 0.38″)
Weight
240g (8.46 oz)
Battery
6000 mAh
Memory
12GB LPDDR4X RAM
Storage
128GB or 512GB UFS 3.0 flash storage
Sensors
Accelerometer, E-Compass, proximity sensor, Hall sensor, ambient light sensor, in-display fingerprint sensnor, gyro, ultrasonic AirTrigger shoulder buttons
Wireless networking
Integrated 802.11a/b/g/n/ac/ad, 2×2 MIMO antenna configuration, Wi-Fi Direct support
Bluetooth
Bluetooth 5.0 (EDR, A2DP) with AVRCP, HID, PAN, OPP profiles
Connectors
Side USB Type-C port: ROG accessory support, USB 3.1 Gen 2, DisplayPort 1.4, fast charging with Quick Charge 3.0, Quick Charge 4.0, USB Power Delivery 3.0
Bottom USB Type-C port: USB 2.0, fast charging with Quick Charge 3.0 and USB Power Delivery 3.0
3.5mm audio jack
Front camera
24MP
Rear camera
Main camera: Sony IMX586 sensor, up to 48MP capture, f/1.79 lens with 26mm equivalent focal length
Ultrawide camera: 13MP sensor, lens with 11mm equivalent focal length, 125-degree field of view
Speakers
Dual front-facing speakers with DTS:X Ultra DSP
Microphone
Quad-array noise canceling design
Source: ASUS