I have been browsing through thousands of file names — no datamining — and have found very interesting NPC names and other tidbits.
I will let you do the speculation after reading through these handpicked file names. It is obvious that some of these will be found in Hell from level 55-60 — which will be available in a upcoming test.
Others can make you rise an eyebrow. Will they appear in the "Caverns of Time"-like dungeons in the Zoltun Kulle Library zone?
Will some appear in the Burning Hells? Will we visit the High Heavens, or will some of these angels appear in Sanctuary in Diablo Immortal. It is difficult to tell from reading a file name — but oh boy… just the myriad of thoughts and possibilities does it for me.
Most prominent for me is Tyrael — who at this point in time, 5 years after the destruction of the Worldstone, he is floating as a disonant sound byte in incorporeal form trying to get himself glued back together.
Then there is… Jered Cain… ancestor of Deckard Cain. Jered was a Horadrim initiate who oversaw the capture of Diablo during The Binding of the Three.
It seems like we will have a new dungeon alongside Destruction's End: Baal in the Library of Zoltun Kulle, with Jered Cain and Tyrael guiding us through the dungeon to imprison Diablo in the soulstone.
THE BINDING OF THE THREE
In BlizzCon 2018, we were shown this Sanctuary timeline. You can see that the Horadrim was founded in 1004 to hunt the Prime Evils (who had scattered throughout Sanctuary after the Dark Exile).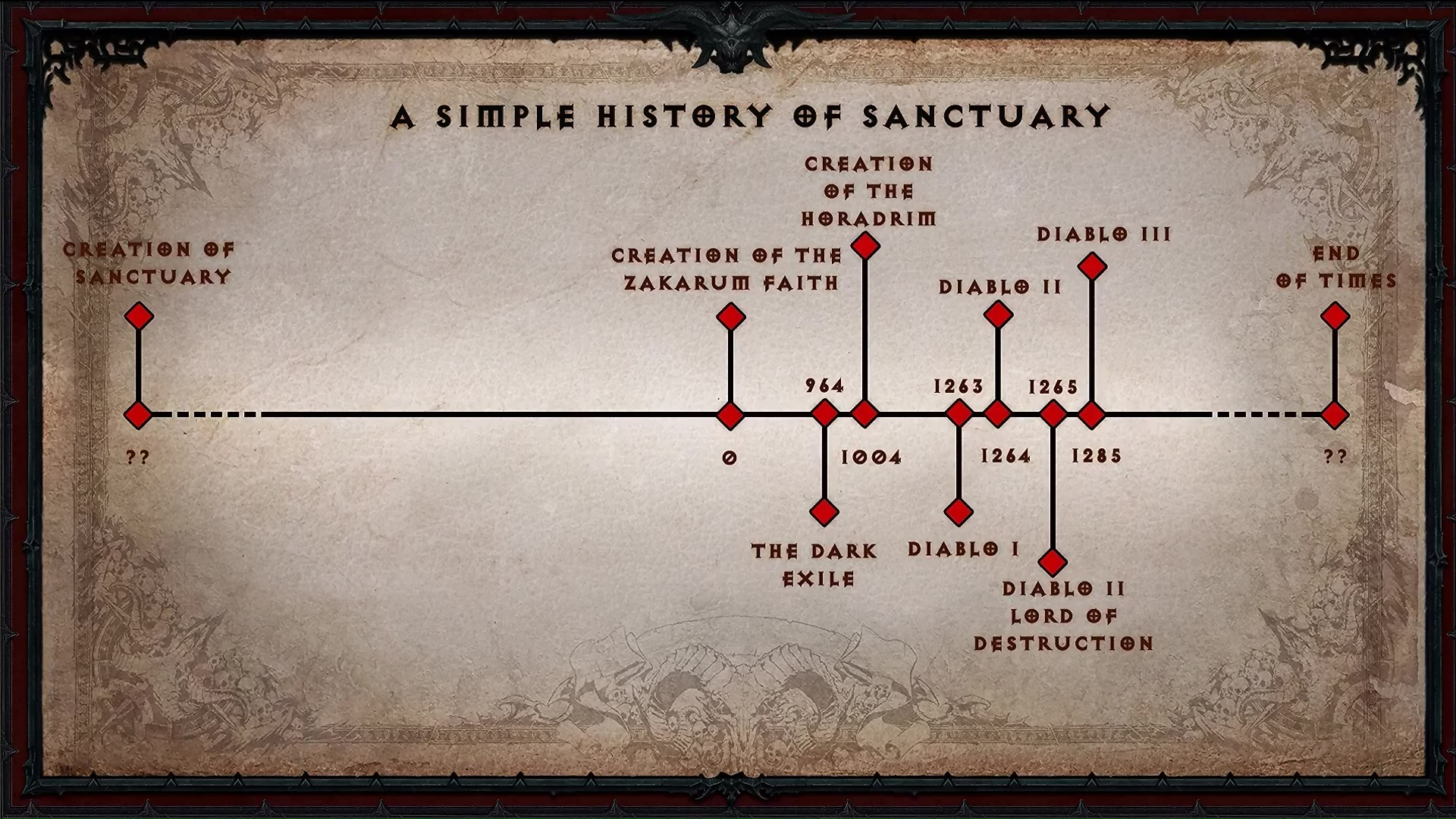 Interesting Characters in the Diablo Immortal file structure
npc_angel_andalon
npc_angel_mikayel
npc_angel_shaddox
npc_angel_verathiel
npc_angel_tyrael
npc_human_Asylla
npc_human_d2druid_branchLine01
npc_human_d2necromancer
npc_human_Horadrim
npc_human_kareem
sorceress_casting
sorceress_special_1
sorceress_special_1_dizzy
sorceress_special_1_wake
tamoe_monk_1
+—boss_butcher
+—drop_boss_butcher_1
+—boss_cowking
+—drop_boss_cowking
+—boss_demonicdravec
+—boss_frozen_queen_leica
+—boss_ghom
+—boss_izual
+—boss_marasim
+—boss_mummy_1
+—boss_nihlathak (I actually found this Diablo II boss in the Shadow Challenges — around Challenge 50)
+—boss_nuka
+—corrupted_izual
+—corrupted_rakanoth
+—devil_cultist_diocesanbishops
+—devil_goblin
+—devil_lavademon
+—devil_gargoyle
+—necromancer_kulou
+—npc_devil_azmodan
+—npc_devil_diablo
+—npc_devil_malthael
+—npc_human_d2amazon
+—npc_human_d2assassin
+—npc_human_d2barbarian
+—npc_human_d2druid
+—npc_human_d2necromancer
+—npc_human_d2paladin
+—npc_human_d2sorceress
+—npc_human_doctorschnabel_1
+—npc_human_jeredcain
+—fb_king_dianti
D3_Monster_Common_109_x1_adriaMonster_wing_FS.bnk
D3_Monster_Common_115_Mon_Azmodan_Footstep_Thump.bnk
D3_Monster_Common_117_boss_cowking_skill.bnk
D3_Monster_Common_133_D3_DuneDervish_Idle_Cloth.bnk
D3_Monster_Common_132_Mon_TriuneSummoner_Fireball_Cast_Precast.bnk
D3_Monster_Common_135_Mon_SandShark_Death.bnk
Here is a zone we have never heard of before:
Object_MountTaymour_MainQuest_Item.bnk