The Diablo: Book of Lorath preview features 5 images from its interior pages in the same overall look as the first of the "Diablo: Book of series" — Diablo: Book of Cain. If anything, the series have kept a constant artistic appearance throughout four books. You can pre-order Diablo: Book of Lorath, slated to ship on June 6, 2023. To view the full size of each image, right-click and select "Open in New Tab."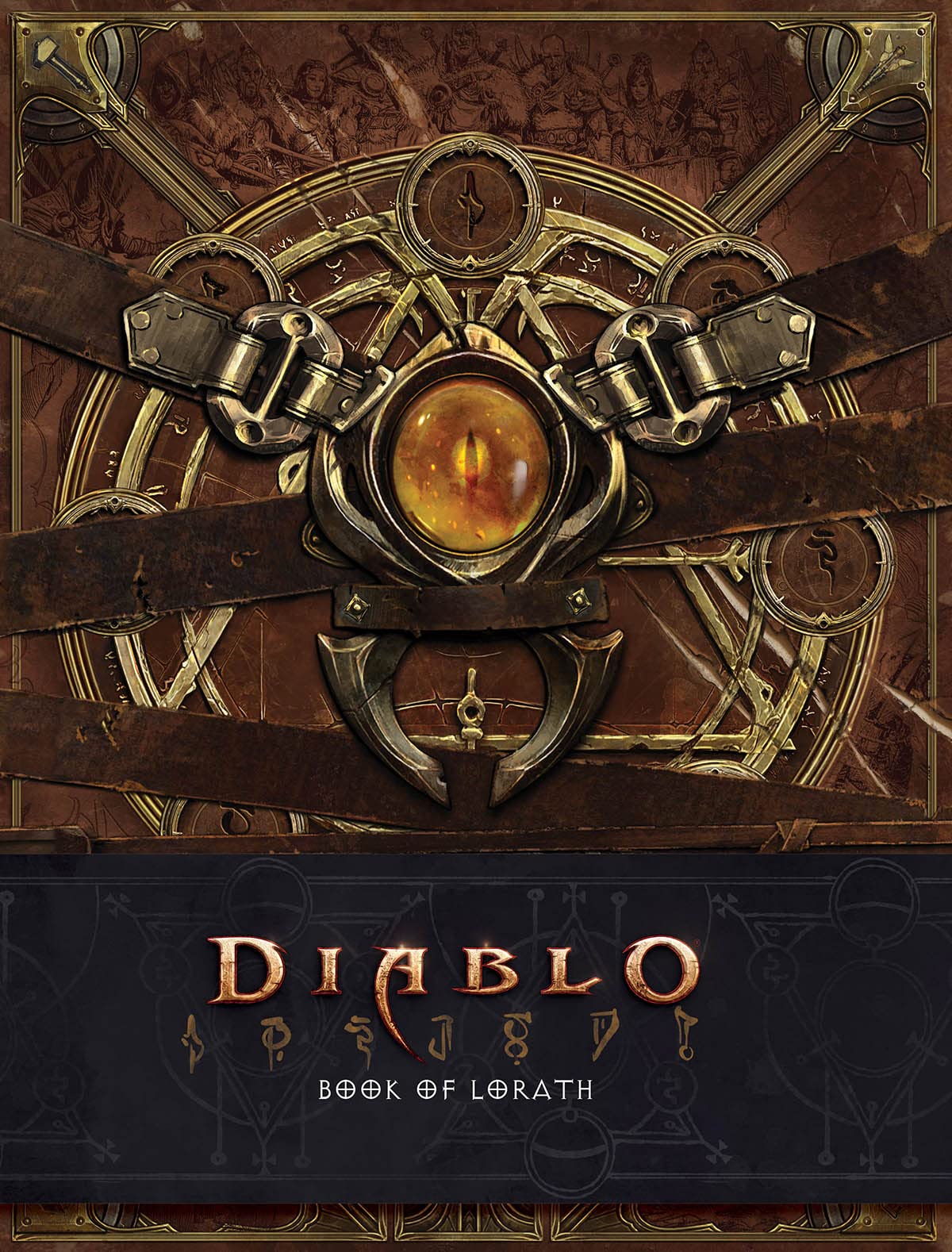 This preview provides some interesting backdrop for the Diablo series in preparation for Diablo IV. As many may know, Lorath is a young member of the new Horadrim brought together by Tyrael (in mortal form). In Diablo IV, the main story character from the point of view of players will be a much older Lorath. Thirty years after the events of Diablo III: Reaper of Souls.
Diablo: Book of Lorath Preview
I found fascinating that Book of Lorath is not only focused on Diablo IV, but the preview also provides details of past events such as Diablo II: Lord of Destruction and even Diablo Immortal.
The first image shows an entry about the Hellforge and its Hammer. The Hellforge made its first debut in Diablo II, when players ventured into the Burning Hells from Pandemonium in order to destroy Mephisto's soulstone. Diablo: Book of Lorath reveals that the Hellforge is located in Baal's realm and that the greatest weapons wielded by the legions of the Burning Hells are made there.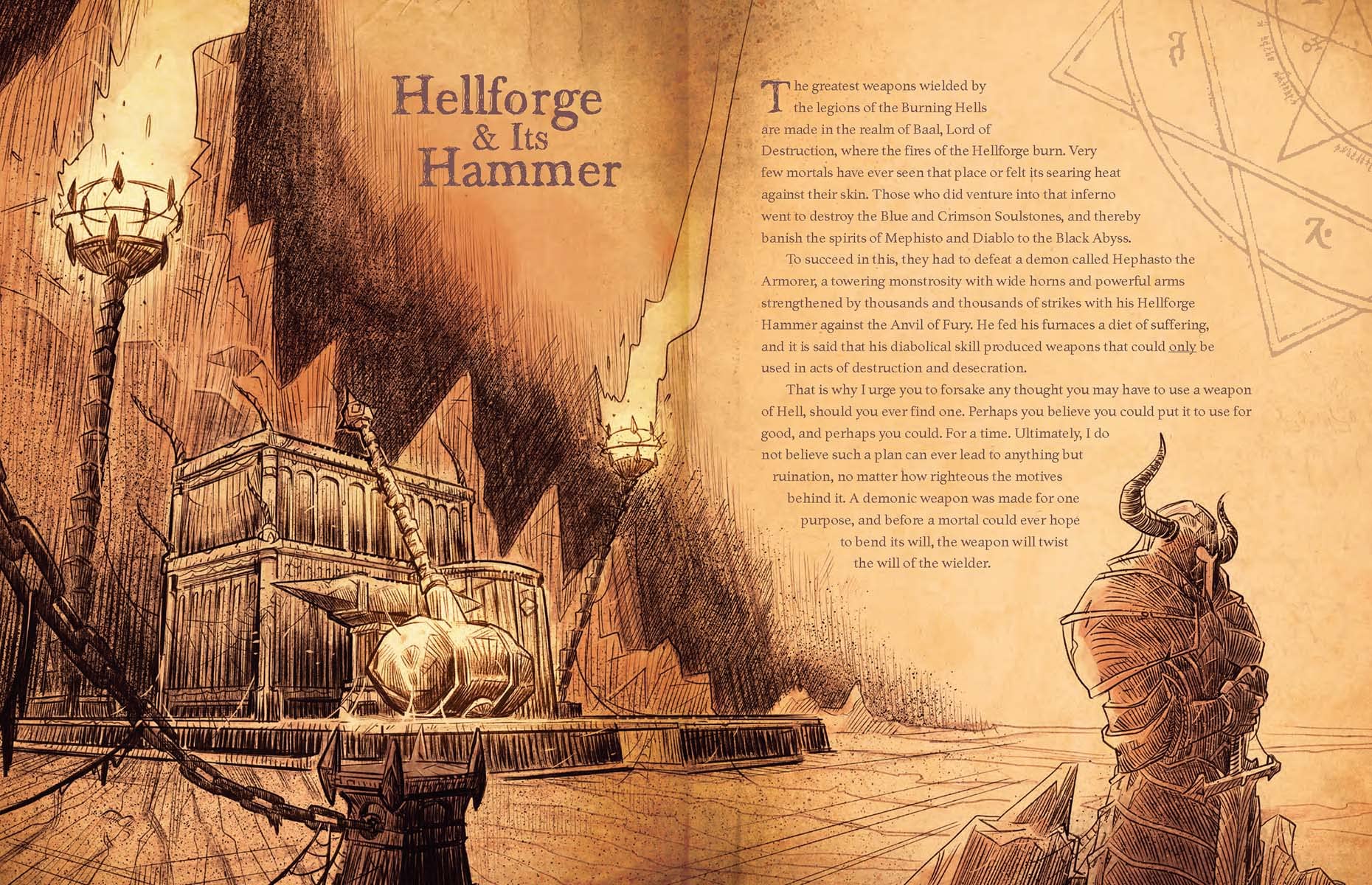 This entry focuses on Demonic Relics, and introduces intriguing concepts about body remains left behind when the Prime Evils were defeated. Are the demonic relics' power coming from the essense of Prime Evils or from their former human hosts and their nephalem legacy?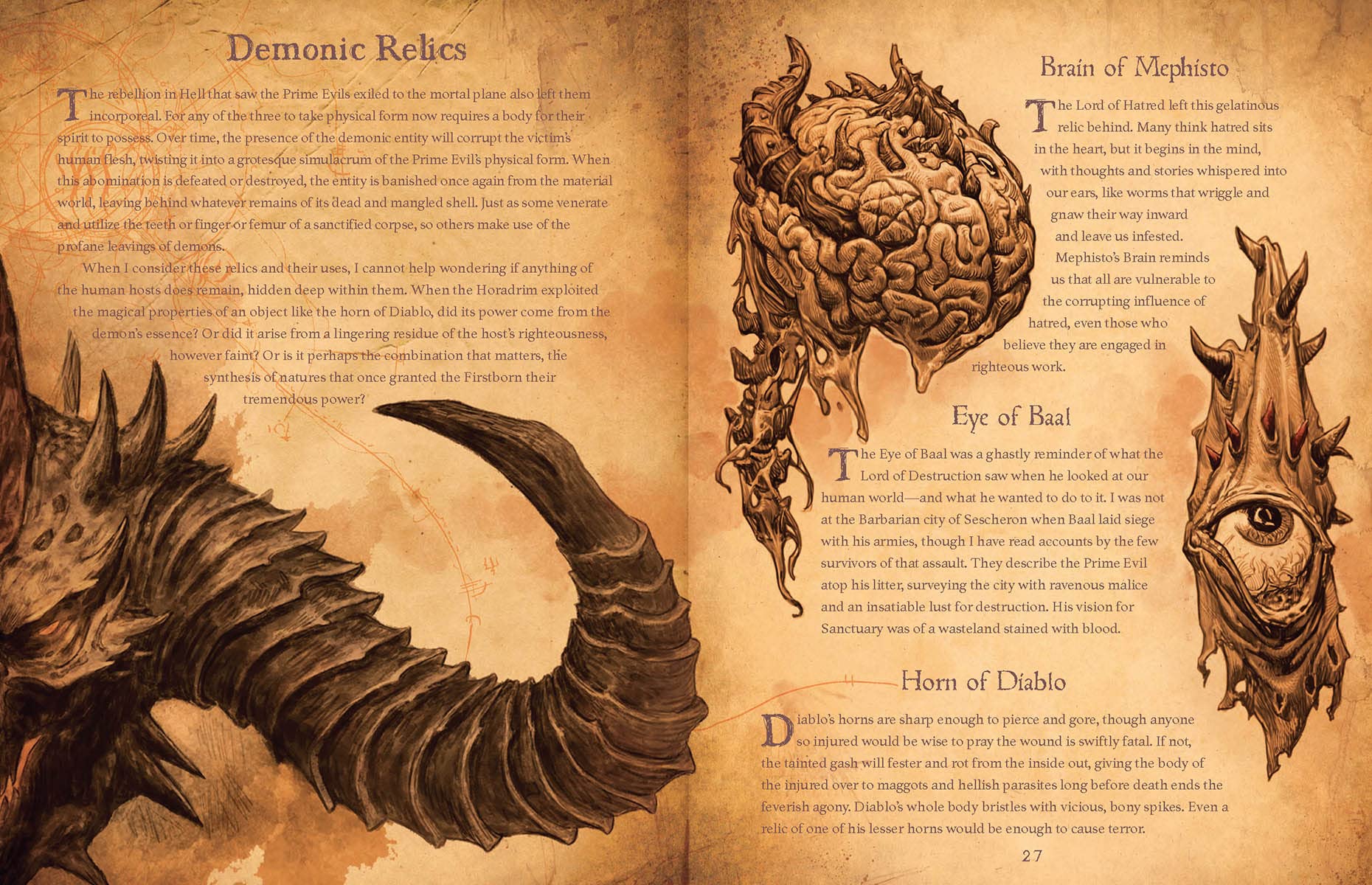 This entry is definitely from Diablo IV, and you will have to play the game to know who these two characters are.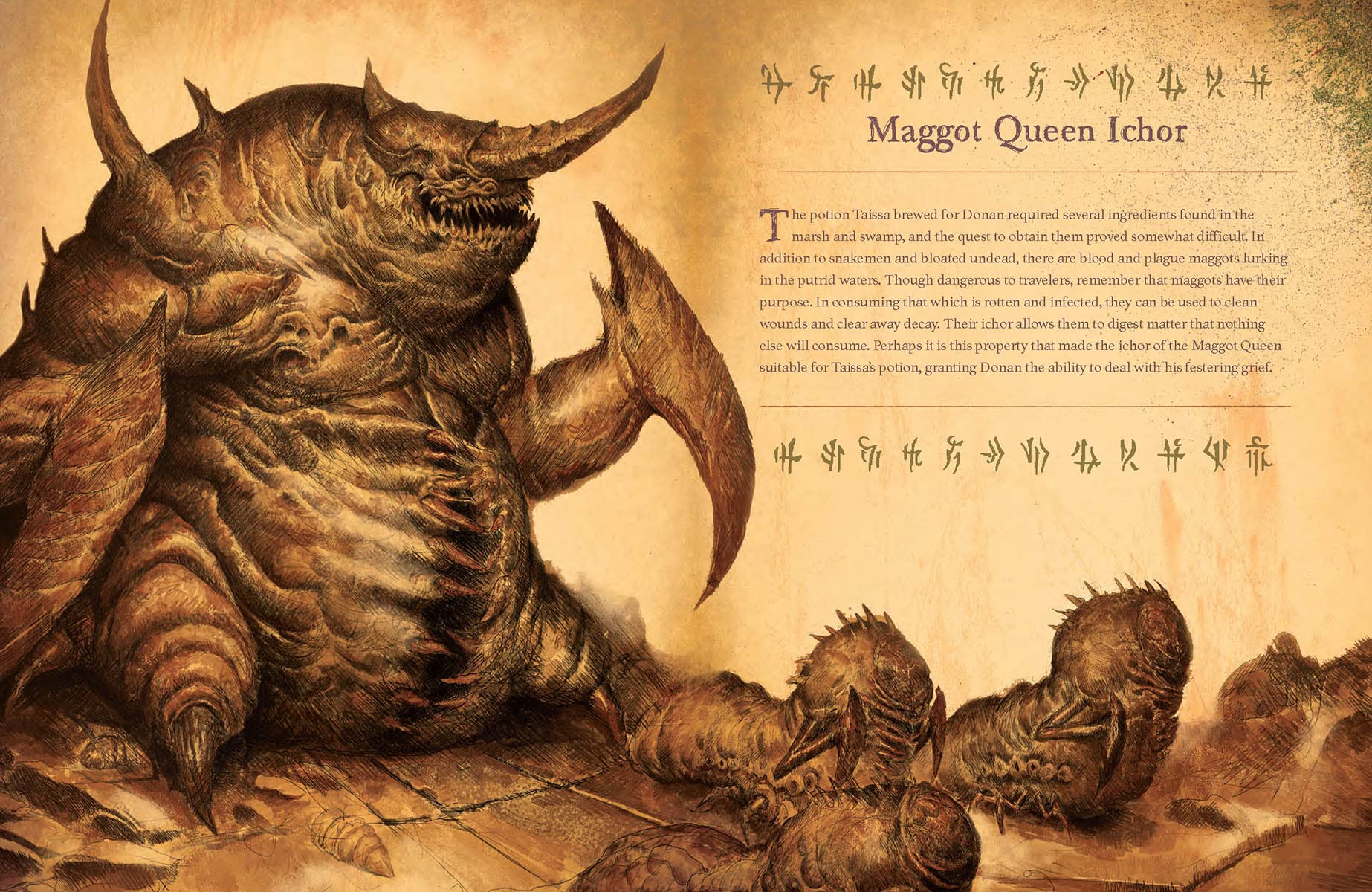 The last two images in this Diablo: Book of Lorath preview, make references to Diablo Immortal features, which makes me wonder whether Diablo Immortal lore and features might be referenced somehow in Diablo IV via textbooks found throughout the world of Sanctuary, or else. The Horadric Vessels mentioned in this entry are from Iben Fahd Sanctum in Westmarch, and the Helliquary — both features introduced in Diablo Immortal.
Could we see these in Diablo IV at launch, or maybe future content patches or expansions? I guess we'll have to wait and see. Rune Words, at least are somewhat confirmed to come to Diablo IV at a later time. So… it wouldn't be too far-fetched if we get to see the Horadric Vessels or the Helliquary show up in Diablo IV either as a lore reference, actual in-game items, or as a system in some distant IRL future.
Any plans to bring back Runes and Rune Words to Diablo 4 at Launch or in the future?
JOE SHELY: This is one of the interesting things about developing the game and showing it off. We try as we develop the game to talk about everything that we are doing as much as possible. Because the game is in development, we are experimenting with things. If you see some of the screenshots we have released, the Skill Tree has changed dramatically as we have looked at player feedback after showing it off. That's the great thing about showing things off, because we can get feedback from players and make adjustments. It also means that sometimes we'll announce features like Rune Words, and we realize like… "you know what? This may need more time to get right." We know that because Rune Words are an existing concept in Diablo. If we announce this new system and name it Rune Words, people might say I remember what Rune Words were, and this is not Rune Words. Then we need to make sure that we are fulfilling the players' expectations. So that's something that we plan to return to in the future.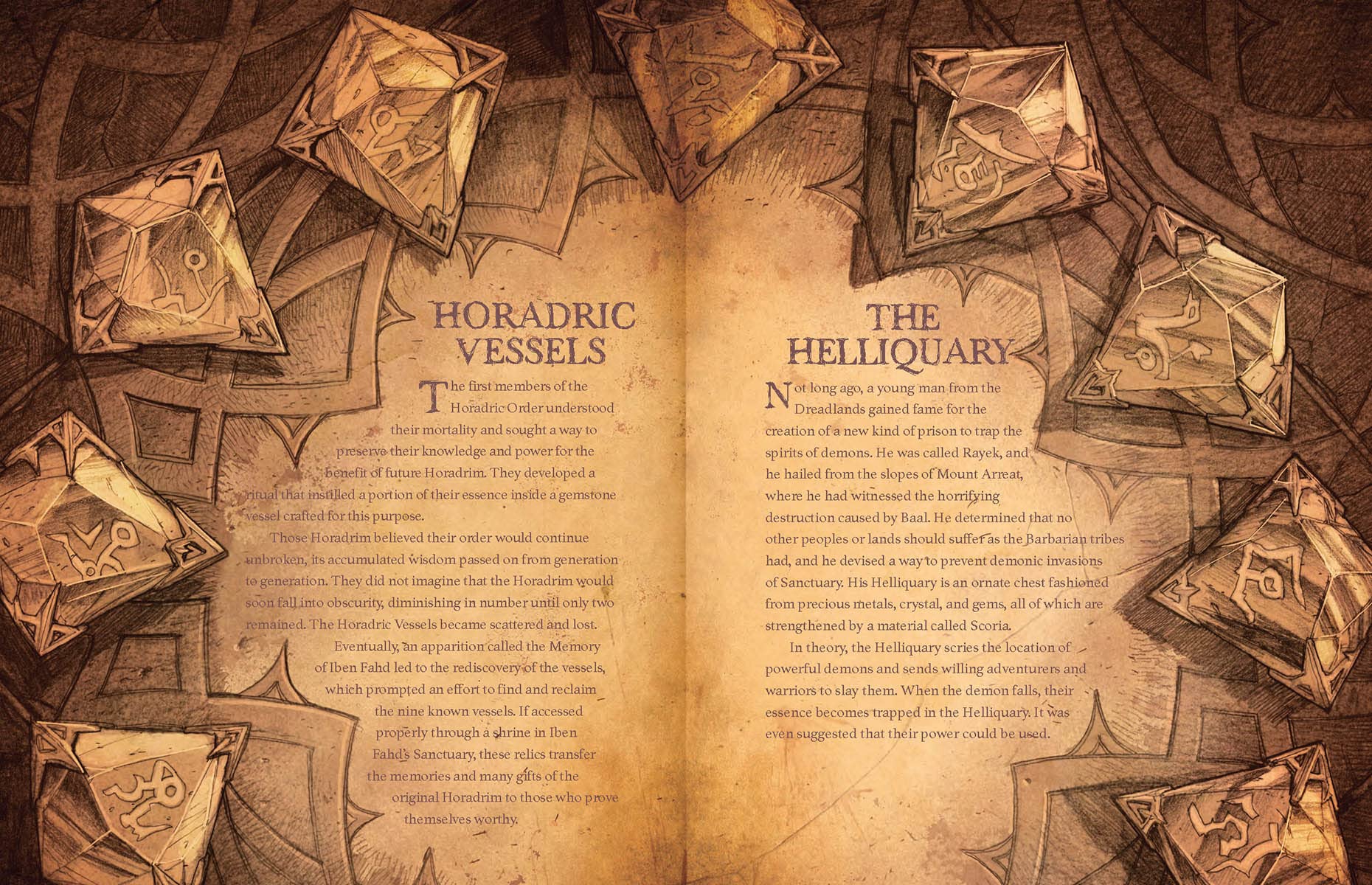 Finally, to wrap up this Diablo: Book of Lorath preview, the last image makes reference to the Scepter of Fahir introduced in the Shassar Sea zone story leading up to the Tomb of Fahir dungeon; and the Eternal Crown — which is the creation of Daedessa the Builder to empower an Immortal champion in Diablo Immortal's PvP story.
Pretty damn cool to see a Diablo IV book incorporating lore from previous Diablo games, because it cements the foundation for what we might see in Diablo IV at launch and in the future as a ongoing Live service that will expand the world of Sanctuary with new Zones to explore, and new and old Diablo lore to discover.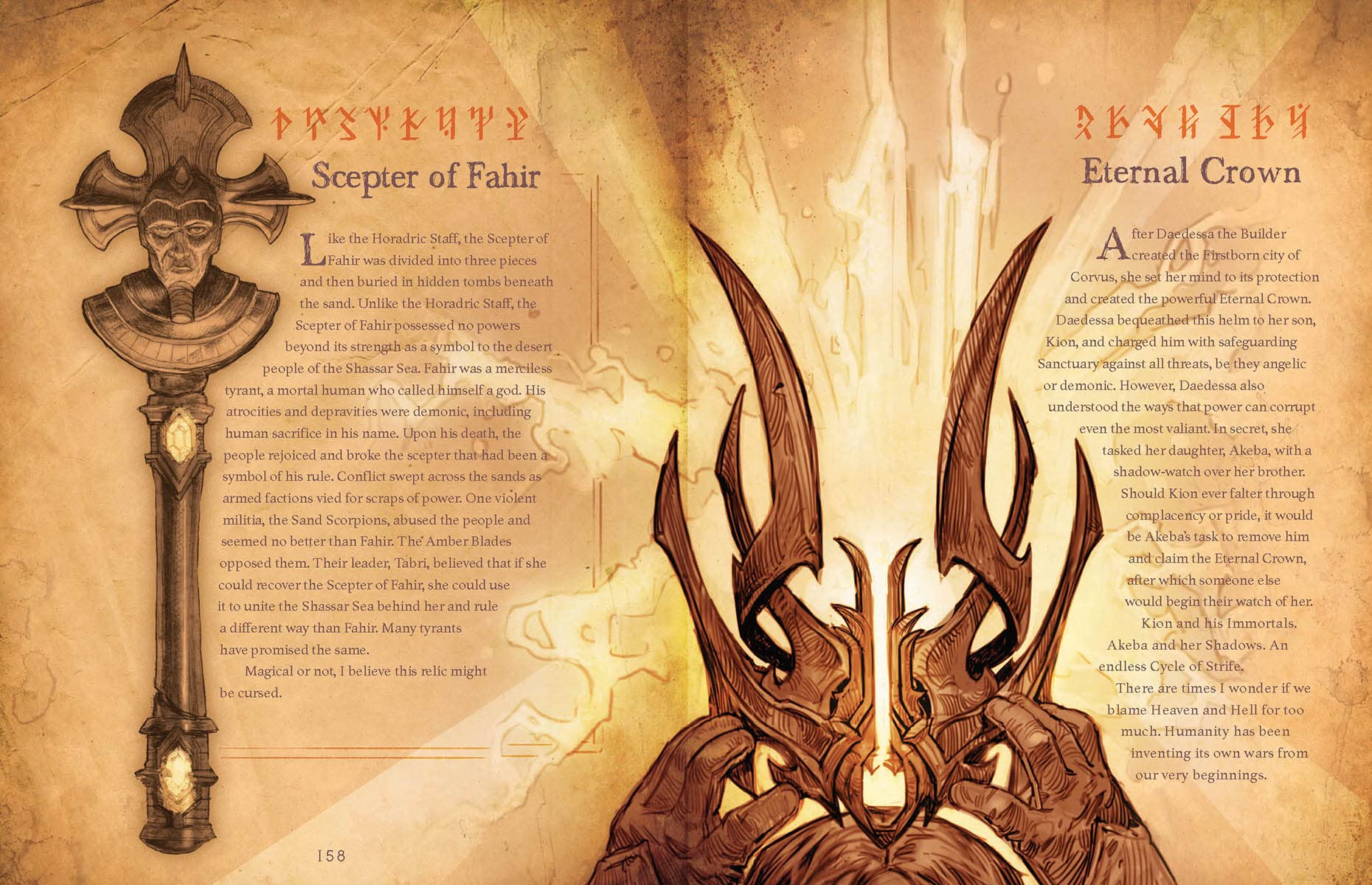 DIABLO: BOOK OF LORATH DESCRIPTION
Make your stand against the darkness with this comprehensive, stunningly illustrated artifact handed down by the Horadric Order, your key to the lore of Blizzard Entertainment's Diablo® franchise.
Amid the restless evil of Sanctuary, only the Horadrim—an ancient order of heroes and scholars—wield the knowledge needed to light the way for humanity. In the Book of Lorath, join Lorath Nahr, one of the last of the dwindling Horadrim, on a journey through Sanctuary's most powerful relics and the stories behind them. It is Lorath's hope that this volume will preserve his knowledge for all time . . . and pass it down to those who will inherit the fight against the Prime Evils.
Direct from the Diablo® development team and award-winning author Matthew J. Kirby, this immersive, must-have compendium with all-new illustrations showcases the artifacts that have often been—and might yet be—the key to tipping the fate of the world.
Publisher ‏ : ‎ Blizzard Entertainment
Release Date: June 6, 2023
Language ‏ : ‎ English
Hardcover ‏ : ‎ 176 pages
ISBN-10 ‏ : ‎ 1956916148
ISBN-13 ‏ : ‎ 978-1956916140
Item Weight ‏ : ‎ 1.74 pounds
Dimensions ‏ : ‎ 7.75 x 1.5 x 10 inches