Just weeks after Blizzard Entertainment announced Diablo Immortal at BlizzCon 2018, the Blizzard Careers site has made some drastic changes on how job openings are posted under the different Diablo teams.
Not long ago, all leading developers have been repeating the mantra that Blizzard is working on Multiple projects by Multiple teams.
Well, now we know there are at least three projects (with the potential for more) as per the new Diablo categories:
DIABLO IMMORTAL
Diablo Immortal now has its own independent job opening category, separate from the normal "Diablo" category.
It is a bit odd that a newly announced mobile game only has one job opening available at the moment: Senior Quest Designer. That's all there is. One job opening.
Either more job openings will be posted at a later time, or the development is pretty far along than we were led to believe. Especially, when the new position is to build new quests.
In fact, you can go to the DiabloImmortal.com website since the BlizzCon announcement to register for news updates and to join beta testing at a undetermined date. Maybe that date is closer than we anticipated.
UNANNOUNCED GAME CATEGORY
The Diablo Immortal job category only has one job opening. In contrast, the Unannounced Game Category has 53 job openings as of today (Nov 24). Funny thing is that many of those job openings clearly and literally say: DIABLO.
Of those 53 job postings, 22 are related to a new Diablo game — and it is not Diablo III related, because otherwise they would be posted in the Diablo category, not in the Unannounced Game category.
It is strongly possible that this unannounced game is Diablo IV, or a Diablo MMO for PC/Consoles (depending what direction Blizzard is planning to go with the franchise).
Just because Diablo Immortal is a MMOARPG for mobiles only, doesn't mean that there can't be a Diablo MMO for PC/Consoles only.
Diablo Immortal is set 5 years after the destruction of the Worldstone. The unannounced game could be set several centuries before Diablo I, or it could be set several years after Diablo III: Reaper of Souls.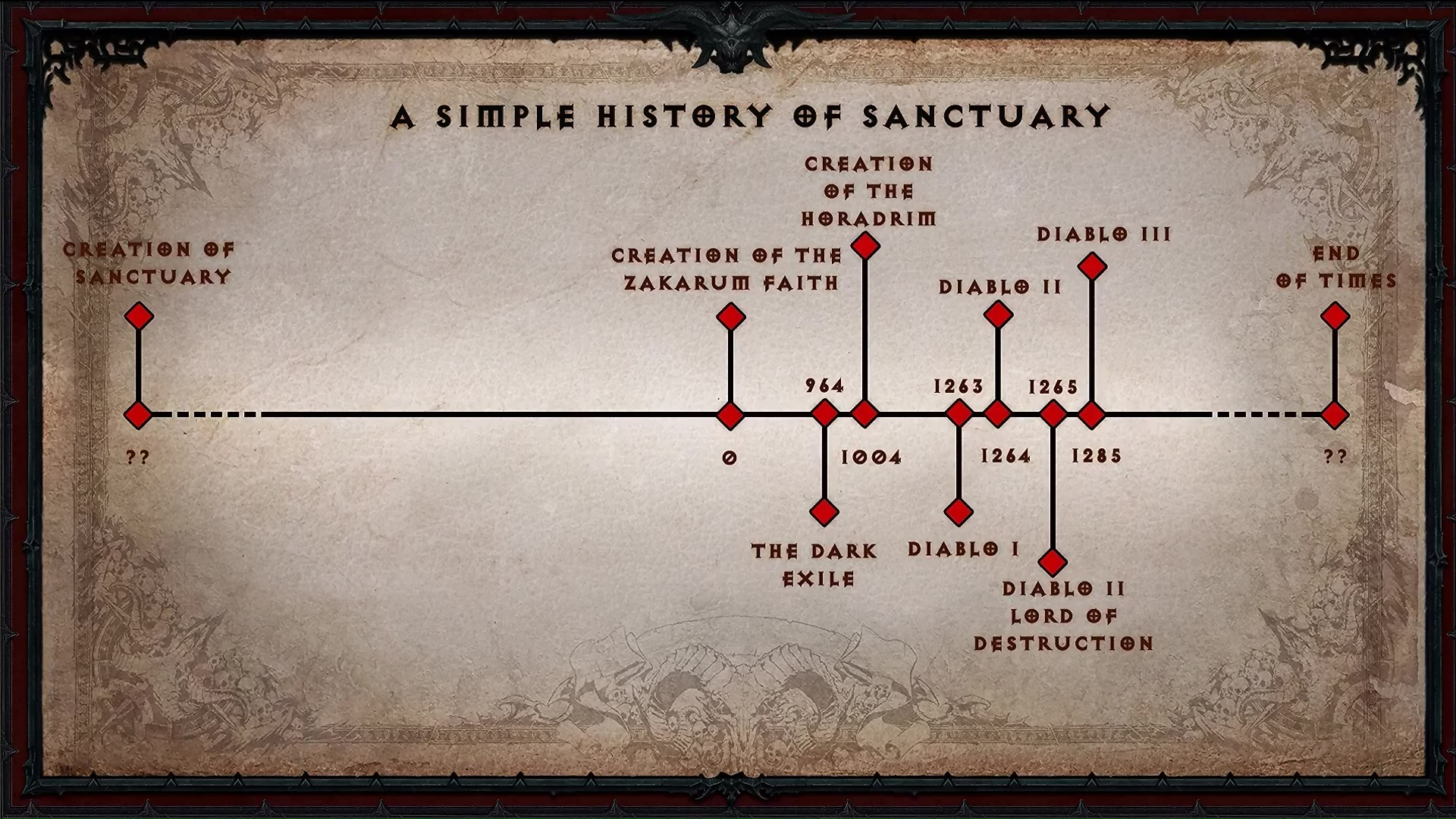 Another thing to note from the Unannounced Game category is that the fact 22 are tagged as Diablo related and the other 31 job postings are not — could mean there is another unannounced game for a different IP: either Warcraft RTS, StarCraft RTS, or a new MMO based on Warcraft, StarCraft, or New IP. It could be a different genre altogether. But none a mobile game. Logic dictates those would be posted under the Incubation category.
Either way, none of those are supposed to be a Mobile game. Mobile game job openings would go under the Incubation category, which is led by Allen Adham.
There is a very interesting language used in some of the Unannounced Diablo game job openings. I only gathered quotes that are unique to each job posting and doesn't repeat among each other: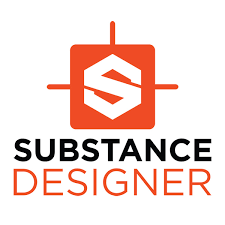 Something that caught my attention across most of the Diablo Unannounced game job openings is the requirement for:
Experience crafting advanced textures in a PBR rendering pipeline using tools such as Substance Designer.
PBR stands for Physically based rendering. According to Wikipedia, PBR is a shading model in computer graphics that seeks to render graphics in a way that more accurately models the flow of light in the real world.
Some of the software used for PBR: Substance Designer, ArmorPaint, 3D Coat, Marmosel, and Quixel.
What caught my attention is that the only Blizzard job opening that makes the requirement for "anything" in a PBR rendering pipeline, or that requires knowledge/experience of Substance Designer is … the Unannounced Diablo game.
After researching what PBR was, I decided to cross-reference this job requirement with other Blizzard job openings across World of Warcraft, StarCraft II, Heroes of the Storm, and Overwatch job openings. Zippo. None of them.
A Lead Artist FX job opening for Heroes of the Storm doesn't have it.
A Senior Concept Artist job opening for the Hearthstone team doesn't have it.
A 3D Character Modeler job opening for the Overwatch Team doesn't have it.
More intriguing… none of the Art/3D job opening variations for the World of Warcraft team use the term: PBR or Substance.
Only one job opening showed this. Another Diablo team:
Character Art Intern (Diablo III team)
Proficiency with Substance Designer, Substance Painter, and Marvelous Designer
General understanding of current character art creation techniques and PBR workflow
Maybe there is nothing-burger here. So I won't speculate at all why only the Diablo unannounced game uses PBR or Substance Painter, or what for. Nevertheless, my curiousity led me to search what video games out there use Substance Painter. Check them out at the Substance Painter official website.
What kind of a Diablo Unannounced game would require PBR / Substance Painter considering all the games that have been developed using it?
DIABLO III
With a new Diablo Immortal job opening category and the Unannounced Game category listing a Diablo game — both separate from the core "Diablo" category, let's now check out what are the current job openings for the "Diablo" category.
Zippo. No new job openings. All you can see in there are internships. 14 internship positions in total to work on Diablo III.
Why would you need 14 interns for a game that is "dead" as per the recent Kotaku article?
All the internships have a string of text in common: "Able to work fulltime hours for 11 – 12 weeks at the Blizzard office indicated in this job posting between May 2019 – August 2019 or June 2019 – September 2019 (group dates depend on when you get out of school)"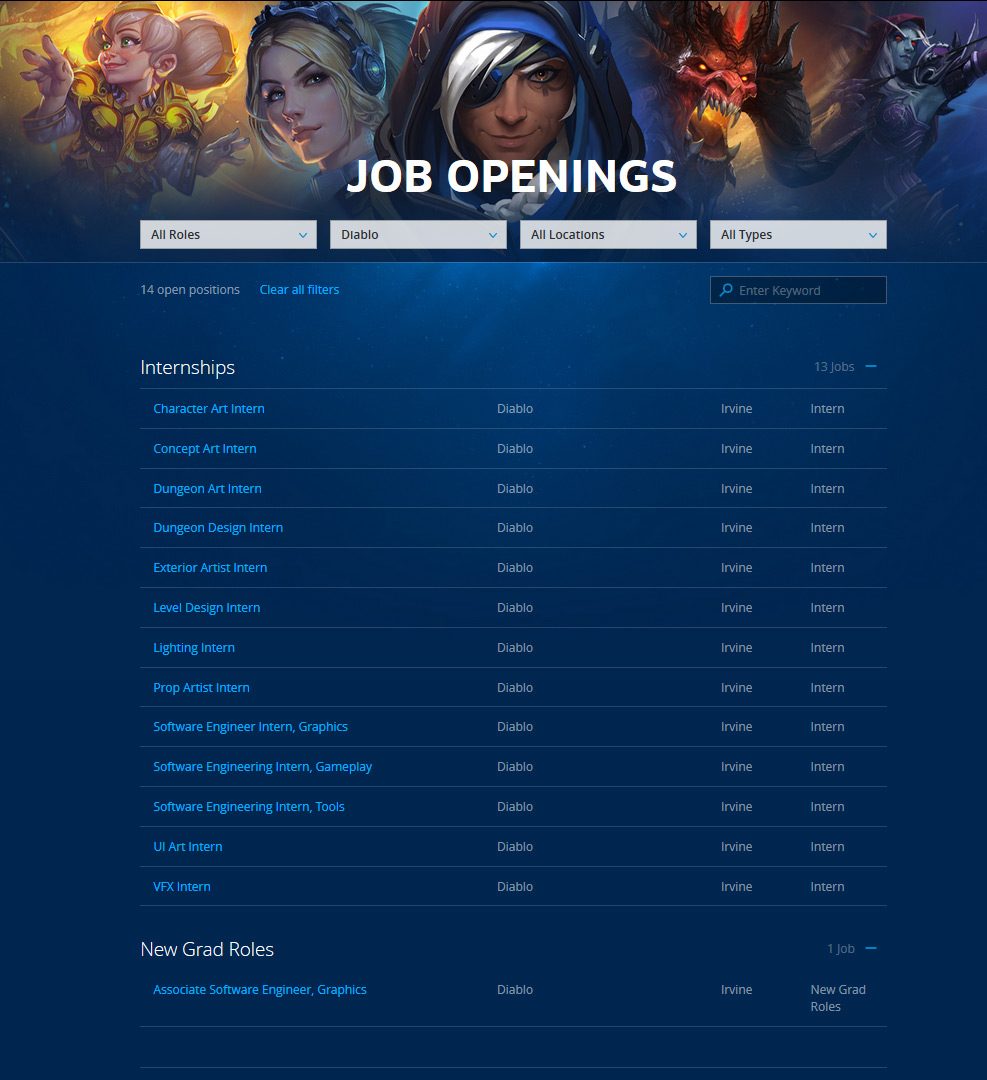 After the cold feedback given at BlizzCon 2018, the Diablo III team really needs to give something to fans, and fast to play until the next Diablo game for PC is ready for beta testing.
What boggles me is whether most of the Diablo III team were moved to the unannounced Diablo game, and some of the Classic Games team or a basic crew of Team 3 are on Diablo III along with these interns.
If so, what could they be working on besides new Themed Seasons?