Activision Blizzard released a Form 10-K to the Securities and Exchange Commission (SEC) which seems to reveal the original plan was to launch Diablo IV in 2022. This launch was postponed for a later time. The part that says: "As a result, we will not have the financial uplift that we had expected in 2022 from the release of these two titles" indicates that Diablo 4 and Overwatch 2 were originally scheduled to launch sometime in the second half of 2022.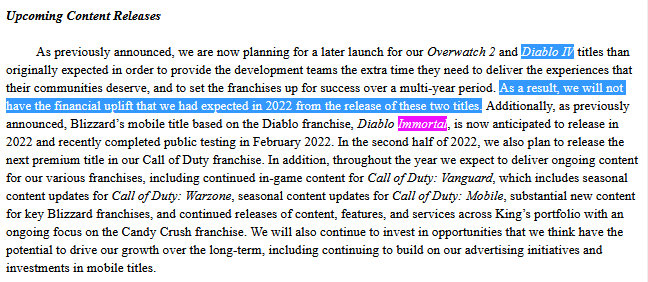 It is unknown now when Diablo IV is expected, especially with the Microsoft acquisition of Activision Blizzard — which is not final, until the FTC approves the transaction up until June 30, 2023. However, this Form-10K gives us an idea how close we were from possibly playing Diablo IV technical alpha.
If they had planned a September 22, 2022 release date — Technical Alpha would have started somewhere around March 2022 or earlier. A November release, would have placed testing near mid-April or early May. Argh! We were so close to test Diablo IV, we could taste it.
Don't hold your breath though. This launch delay could be extended to 2023, or 2024. What we have seen so far from the Diablo IV Developer Updates, this game looks very good. The next Developer Update is scheduled some time around early March 2022. Just a few days ahead. Stay tuned.