It is now official! Blizzard Entertainment and KFC have partenered to promote and allow fans the opportunity to join Diablo IV Early Access Beta. Kentucky Fried Chicken has reintroduced the Double Down bun-less sandwish into the Menu after a decade. Order a Double Down online via the KFC app, and redeem the code to join the Diablo IV Early Access Beta. Err… if you don't mind a heartburn!
Update: I ordered at the KFC website with my PC to let you know how it works. It was simple. Browse the Menu and make sure there is a red label at the top of each menu item that says "Diablo Early Access." If the red label is missing, the item does not qualify. There are at least 14 items in the Menu that qualify for the Diablo IV Early Access Beta. Not just the Double Down item.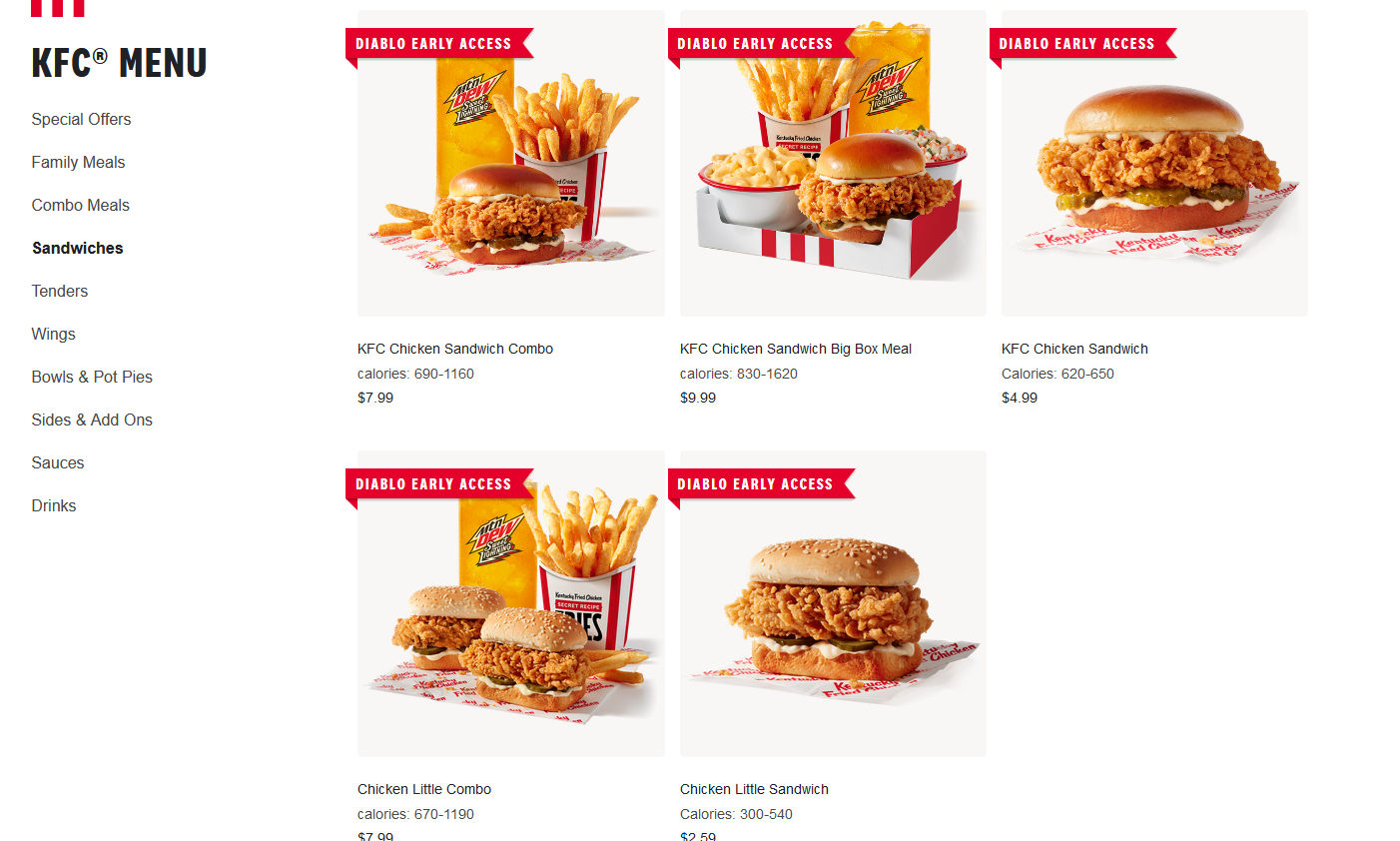 You enter your zipcode to get the closest KFC. You can either pickup (schedule when) at their store or delivery. Immediately, KFC will send an email to the email address you entered in the order that contains your reciept, and then a second email message containing your Diablo IV Early Access Beta code. In your email message, click that big red button that says: "Redeem Code." Or you can visit the Blizzard page to redeem the code. You must login to the Battle.net account you wish to play the Early Access Beta.
Diablo IV Early Access Beta begins on March 17 -19 weekend and ends at noon on the 19th. The Open Beta doesn't require a KFC purchase. Diablo IV Open Beta will begin in the weekend of March 24-26. Diablo IV will go Live on June 6.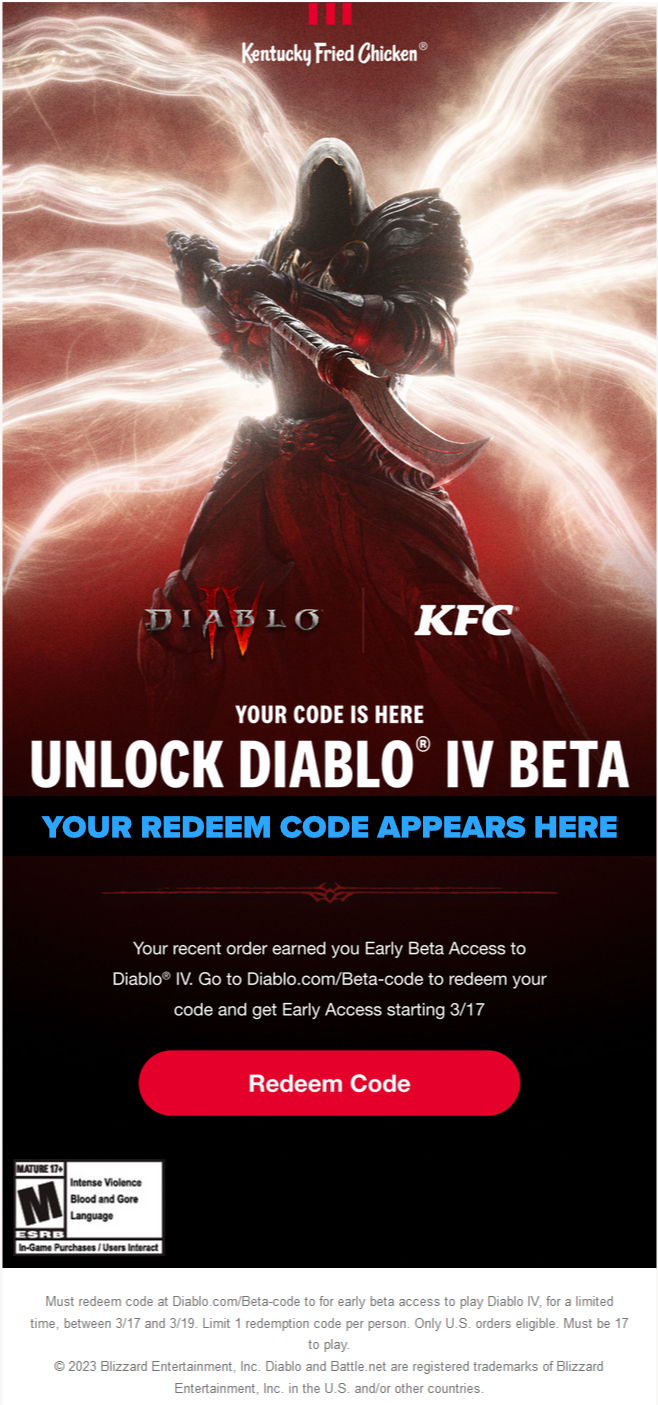 Join Diablo IV Early Access Beta
Blizzard Entertainment is collaborating with restaurant chain Kentucky Fried Chicken® to offer fans early beta access Diablo® IV, the next generation installment in the genre-defining series. One of the most anticipated games of the year, the title will be released on June 6, 2023.
Starting today through March 18th, customers who order KFC's iconic Double Down, which made its triumphant return following a 10-year hiatus to KFC U.S. menus nationwide March 6, or any eligible sandwich at KFC.com or via the KFC App, will receive a code for Early Beta Access* to Diablo IV.
FEED YOUR NEED
Eligible purchases include KFC's iconic Double Down Sandwich (a bun-less sandwich with two of KFC's Extra Crispy™, 100 percent white meat filets, two slices of cheese, and two pieces of crispy, hickory-smoked bacon, with either the Colonel's Mayo or spicy sauce) and the Kentucky Fried Chicken Sandwich (an all-white meat, double-breaded, Extra Crispy™ chicken breast filet, freshly toasted buttery brioche bun, thick, crispy pickles, and the Colonel's real mayo or spicy sauce). Both the Double Down and Kentucky Fried Chicken Sandwich are available in both classic and spicy versions, perfect for Diablo IV fans who love the heat.
After placing their order at KFC.com or on the KFC App, fans can avoid waiting in line, head to their local KFC, park in a dedicated VIP parking spot, and go inside where their order will be hot, ready, and waiting on KFC's Quick Pick-Up shelf. Mobile ordering available at participating locations.
The game invites players to join the fight to save the dark and gothic world of Sanctuary, where demonic hordes battle for the souls of humanity. With a choice of five different hero classes to choose from, there's a plethora of paths to take in order to go up against the ultimate evil: the Mother of Hatred, Lilith. Open Beta will start on March 24 (all five hero classes available), and those who pre-order get early access starting March 17 (only three hero classes available).
*For a limited time at participating locations. Prices may vary. Early access code exclusively available with purchase of sandwich on KFC.com or the KFC app between 3/9 and 3/18, while supplies last. Offer not available in restaurant or on third-party platforms. Customers will receive a code to the email provided at time of eligible purchase for early beta access to play Diablo IV between 3/17 and 3/19. Diablo IV available on Windows® PC, Xbox Series X|S, Xbox One, PlayStation®5, and PlayStation®4. Limit 1 redemption code per person. Only U.S. orders eligible.