The Diablo 4 Patch 1.1.1 campfire chat revealed a lot of changes coming to Season 1 based on feedback.
The associate director community manager Adam Fletcher hosted the campfire to talk with Joe Piepiora (associate game director), Adam Z. Jackson (lead class designer), and Joe Shelly (game director) about this upcoming patch. The Patch 1.1.1 patch notes will be revealed on August 2. Patch 1.1.1 goes live on August 8.
Highlights
Changes coming to improve the Sorcerer and the Barbarian to reduce the excessive nerf from the Season 1 patch. This change will enhance the Sorcerer survivability in high Nightmare Dungeon levels.
The Sorcerer's Serpentine Aspect is getting enhanced in Patch 1.1.1. It is no longer going to reduce the duration of Hydras. It is going to get an increased duration.
Barbarian early leveling is getting an improvement with better Fury generation with Basic skills; and improving his Season 1 end-game.
Changes coming in future patches: the team wants to bring different types of damage coming together. Vulnerable and Crit are really strong right now. There are other types of damage: Damage Over Time, Aura power (Thorns). The developers want to add more parity with other types of damage other than the current meta that focuses on Vulnerability and Crit Damage. In short, all those damage types will be equal to all classes and gameplay styles.
Some unique items such as the Shadow trail for Necromancers, or the Barbarian's Dustdevils are good when they drop, but when you reach high level Nightmare dungeons, that damage falls short. Unique item's special affixes and their damage will now scale to match those nightmare dungeon difficulties.
Monster density will be increased in Nightmare Dungeons and Helltides in Patch 1.1.1.
Dungeon Bosses will now have a guaranteed Legendary item.
Dungeon Bosses will have increased health.
Treasure Goblins will now drop a Legendary Item 100% of the times you kill one.
In 1.1.1, affixes that will be removed from Nightmare Dungeons: Resource Drain, Cold Enchanted, and Backstabber.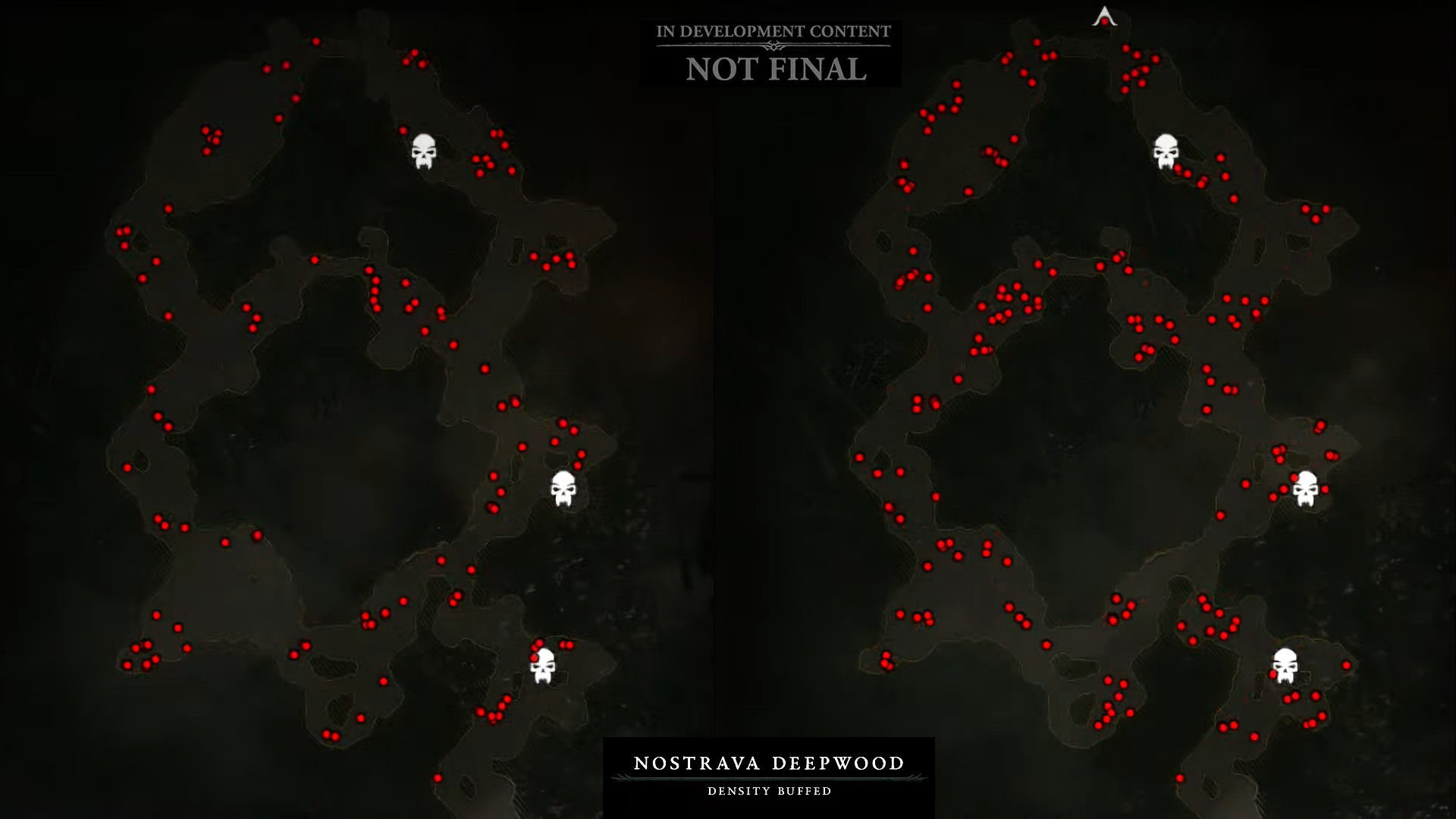 Q&A
It is not coming in Patch 1.1.1, but the team is looking at enemy crowd control in Nightmare Dungeons to avoid getting stunlocked.
Good changes to mounts coming. Skeleton and Bandit barricades will be removed from the game.
There is a fix coming in 1.1.1 for memory leaks and VRAM for players that are affected by sudden client crashes.
Class Changes