Blizzard Entertainment revealed the BlizzCon 2019 schedule and map — and there are at least four blank panels after the Opening Ceremony. The fact these were not specified means we should expect a mix of 4 new expansions, or at least 1 brand-new game.
It might be safe to make a decent guess that these are among them:
World of Warcraft expansion
Diablo Immortal
Overwatch content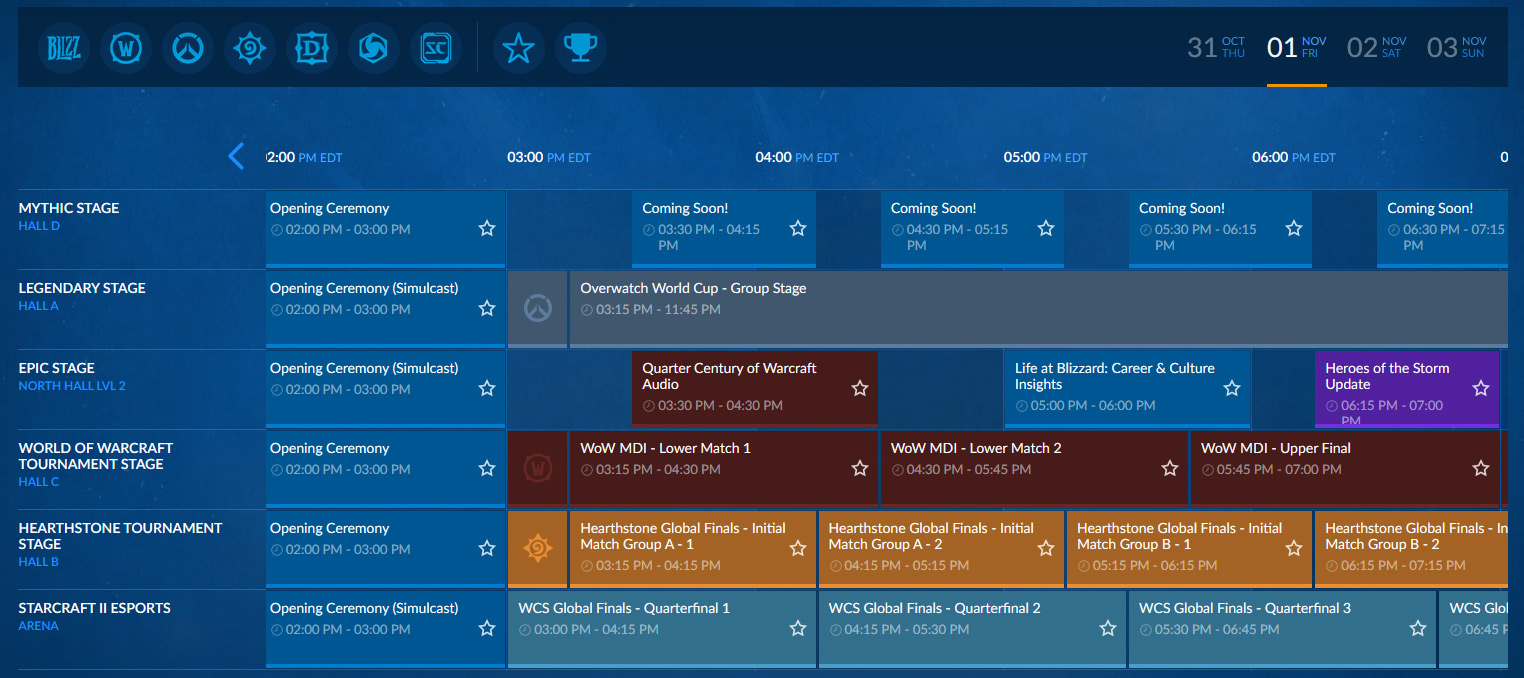 The schedule openly mentions a Heroes of the Storm update panel on Nov 1 at 6:15pm; and a Hearthstone update at 8:15pm. There is also a Warcraft III: Reforged update panel on November 2 at 6:15pm. So here we have an opportunity to make some wild guesses by eliminating Hearthstone, Heroes of the Storm, and Warcraft III Reforged from the four blank panels listed in the BlizzCon 2019 schedule.
If we go by the recently Panini leak, Diablo IV is a strong candidate for the fourth blank schedule slot. However, that doesn't leave much space for Diablo Immortal — unless two of these blank panels are Diablo IV + Diablo Immortal as separate panels.
Something that caught my eye in this schedule is that the Opening Ceremony is taking place at 2pm rather than at 11am. That is a three-hour hiatus. Very unusual. But there is nothing that may come to mind as to why.
Another striking observation by looking at the BlizzCon 2019 map is the lack of a StarCraft and Diablo demo station. You would expect at least one blank station for Diablo Immortal, or Diablo IV. So I might dare to make a speculation here.
Remember when Blizzard Entertainment made a LIVE demo of World of Warcraft Classic at BlizzCon 2018 which lasted a few days? I have a feeling that whatever Diablo content Blizzard will announce at BlizzCon will provide a LIVE demo that you can play at home or wherever you have internet access. That's what the lack of a blank demo station (for Diablo Immortal and/or Diablo IV) tells me.
Actually, there is a huge area in HALL D that is blank — and that space is about the same size of the Overwatch demo station. Hint: Diablo Immortal demo station was located at the blank space shown in Hall D. What will the mysterious Hall D demo station spotlight this year?