Recently (on March 27, 2016), Blizzard Entertainment announced the development of StarCraft: Remastered where the developers are remaking all the graphic assets to support 4K Ultra HD video cards and Monitors.
A recent Blizzard Entertainment job opening, furthermore, hints ongoing plans to develop a remastered version of Diablo II and Warcraft III, as well. These have not been officially announced, but the wording used in the job opening erases any doubt that this is the plan. After mentioning StarCraft, Warcraft III, and Diablo II, the job opening clearly states: "We're restoring them to glory."
That's quite an endeavor, and the question one can particularly ask is whether the entire server infrastructure will get an upgrade as well, moving those classic games now in 4K to the Blizzard Launcher. That in particular has not been clarified by Blizzard Entertainment, but certainly would be a great question to ask.
Senior Software Engineer, Server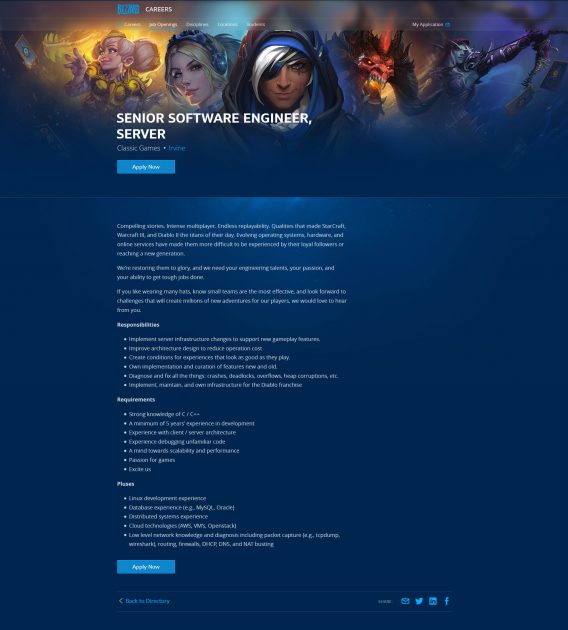 Compelling stories. Intense multiplayer. Endless replayability. Qualities that made StarCraft, Warcraft III, and Diablo II the titans of their day. Evolving operating systems, hardware, and online services have made them more difficult to be experienced by their loyal followers or reaching a new generation.
We're restoring them to glory, and we need your engineering talents, your passion, and your ability to get tough jobs done.
If you like wearing many hats, know small teams are the most effective, and look forward to challenges that will create millions of new adventures for our players, we would love to hear from you.
Responsibilities
Implement server infrastructure changes to support new gameplay features.
Improve architecture design to reduce operation cost
Create conditions for experiences that look as good as they play.
Own implementation and curation of features new and old.
Diagnose and fix all the things: crashes, deadlocks, overflows, heap corruptions, etc.
Implement, maintain, and own infrastructure for the Diablo franchise
Requirements
Strong knowledge of C / C++
A minimum of 5 years' experience in development
Experience with client / server architecture
Experience debugging unfamiliar code
A mind towards scalability and performance
Passion for games
Excite us
Pluses
Linux development experience
Database experience (e.g., MySQL, Oracle)
Distributed systems experience
Cloud technologies (AWS, VM's, Openstack)
Low level network knowledge and diagnosis including packet capture (e.g., tcpdump, wireshark), routing, firewalls, DHCP, DNS, and NAT busting
What would Diablo II Remastered or Warcraft III Remastered look like? Let's take a look at the StarCraft: Remastered samples. Blizzard won't change the basic look. Just refine it to look great in 4K Ultra HD. The gameplay will be the same as the old experience. The video interview at the bottom of this page says a StarCraft player playing the SD version against a player playing the HD version will have the same gameplay experience. Both SD and 4K players can play against each other in the same match with no difference other than the graphics quality.
Thus, we will have the same old gameplay experience of Diablo II and Warcraft III, except the graphics will be high-resolution for 4K Ultra HD. Learn more about the StarCraft: Remastered at the official site. Again, Blizzard Entertainment has not officially announced Diablo II: Remastered nor Warcraft III: Remastered.
**Title changed to "hints" as requested by _Enferian_ and other redditors.
Update
A fan going by SharkyIzrod pointed out that Blizzard Entertainment used the same flavor text of this job posting quote-by-quote back in 2015. Though, delisted long ago, I found it via the Web Archive. That old job opening was originally posted on November 4, 2015.
The only thing that is not quote-by-quote is the Pluses, and a few words in the requirements. This might dishearten some people, but obviously, that 2015 job opening was for the Classic Games team that eventually started developing StarCraft: Remastered back then.
Now, here is the thing… the job opening of my article was last cached by google on April 14, 2017.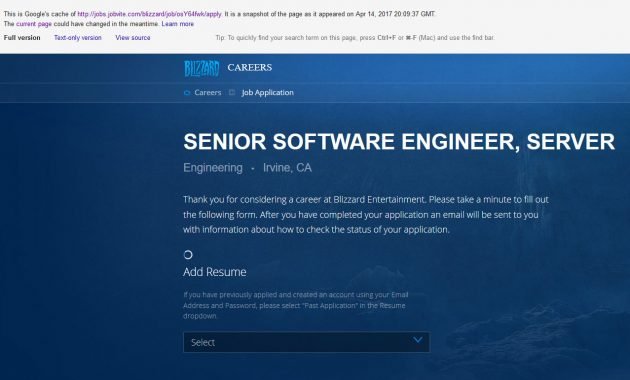 That was April 2017. The Blizzard Careers Team posted it again, 3 weeks ago, in Linkedin. It is June 17, 2017 and the job opening is still listed, which means the position hasn't been filled. These pages are delisted when the position has been filled. The StarCraft: Remastered is shipping on Summer 2017. The job opening doesn't specify that it is a temporary job. At this point, it is safe to say that the new job posting is for the next Classic Game project after StarCraft: Remastered is shipped.
Update 2: Bombshell
Researching online I stumbled upon a recent video interview by Yahoo eSports discussing StarCraft: Remastered with senior producer Pete Stilwell posted in YouTube on April 13, 2017.
Pete: "Once we have got this thing shipped in the state that we want it to, we will start looking at the other games. So (chuckles) nothing official to say today."
So it is not a matter of "IF," but a matter of "WHEN" Diablo II and Warcraft III will get the Remastered treatment. The video interview says it took the Classic Games Team one year to make the StarCraft: Remastered. Currently, there are 20+ developers in the Classic Games Team.
The full video interview can be watched here.
Update 3: UI/UX Visual Designer (Job Posting)
A job opening was posted by Blizzard Entertainment, requesting for a UI/UX Visual Designer. Now … why would Blizzard hire this specific designer for, for a game that was released in the early 2000s? Unless … Blizzard is remastering Diablo II or Warcraft III to support 4K?
UI/UX stands for User Interface / User Experience. According to CareerFoundry: "While User Experience is a conglomeration of tasks focused on optimization of a product for effective and enjoyable use; User Interface Design is its compliment, the look and feel, the presentation and interactivity of a product."
Looking up online, this UI/UX Visual Designer job opening was posted on May 23, 2017. A Classic Games Team member, Brissia Jimenez, posted on her Twitter the candidate will work with her.
Why does this matter? Because the StarCraft: Remastered UI/UX is already finished, and the game is shipping in a few weeks (Summer 2017).
UI/UX Visual Designer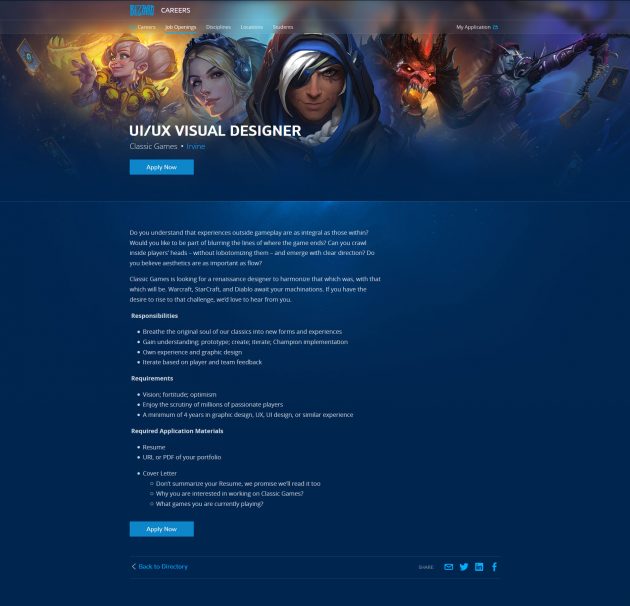 Do you understand that experiences outside gameplay are as integral as those within? Would you like to be part of blurring the lines of where the game ends? Can you crawl inside players' heads – without lobotomizing them – and emerge with clear direction? Do you believe aesthetics are as important as flow?
Classic Games is looking for a renaissance designer to harmonize that which was, with that which will be. Warcraft, StarCraft, and Diablo await your machinations. If you have the desire to rise to that challenge, we'd love to hear from you.
Responsibilities
Breathe the original soul of our classics into new forms and experiences
Gain understanding; prototype; create; iterate; Champion implementation
Own experience and graphic design
Iterate based on player and team feedback
Requirements
Vision; fortitude; optimism
Enjoy the scrutiny of millions of passionate players
A minimum of 4 years in graphic design, UX, UI design, or similar experience
Required Application Materials
Resume
URL or PDF of your portfolio
Cover Letter
Don't summarize your Resume, we promise we'll read it too
Why you are interested in working on Classic Games?
What games you are currently playing?
Here is a sample of what a UI/UX Designer did for StarCraft: Remastered. You can find the image (below) at the original page over at StarCraft.com
Thanks to the following gaming sites featuring our article:
PCGamer
Bluesnews
Reddit
GameZone
VG247
PlayM.de
Releases.com
DSOGaming
AlienwareArena
GameRant
GameBanshee
4Players.de
PCGamesN
PCMag