If you pre-ordered Diablo: The Book of Adria via Amazon, please check out your email inbox for anything labeled Amazon, including your Junk mail. Amazon has notified members that the book has been delayed. That means they require you to approve whether you still want the product. Follow the link in that email to approve the pre-order, letting them know you are still interested regardless of whatever the new release date is. Otherwise, the pre-order will be auto-cancelled by November 14th.
The book was supposed to ship today, so it was kinda a last minute change. At this moment the new ETA has not been specified.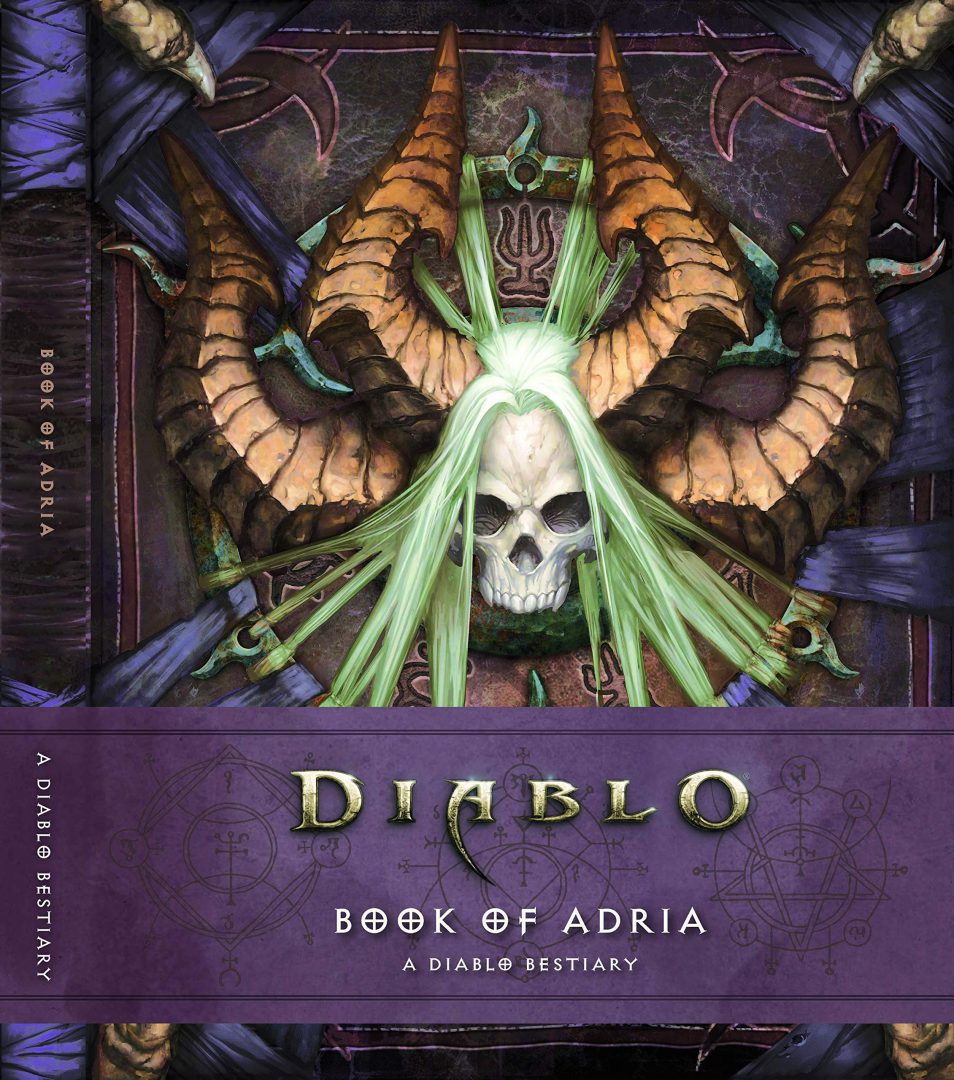 Whatever happened with this delay was not even known to the co-author: Robert Brooks, who last Wednesday, October 10th tweeted Book of Adria delivery was "this week."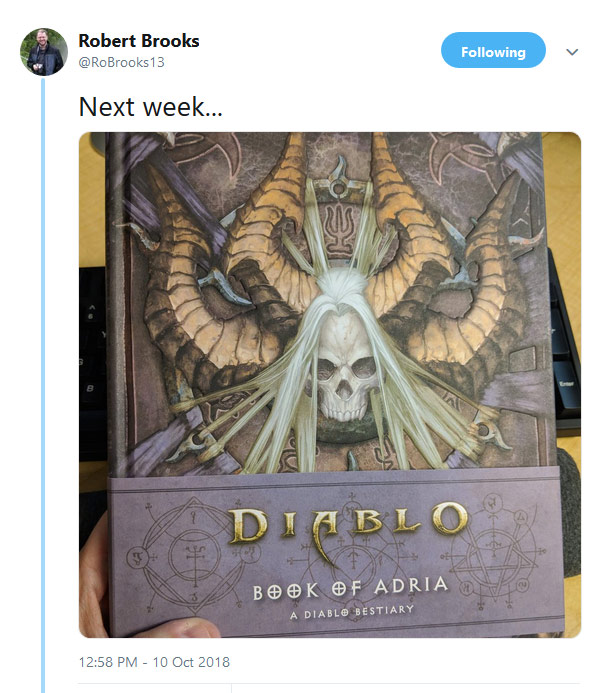 UPDATE (6:00pm EDT): Recently, as a community we went through a grim situation where Titan Comics nor Blizzard Entertainment alerted fans that the Diablo comics had been cancelled, after some unusual behavior happened with pre-order cancellations and pages disappearing from retailers without explanation.
I wanted to make sure the same was not happening with Diablo: The Book of Adria. I had a live chat just now with an Amazon representative to learn the cause of the shipping delay. The pre-order didn't come directly from Amazon. It comes from a third-party named Chris's Bargains.
If you [Approve] the pre-order from the Amazon notification sent to your email inbox, the Book of Adria is estimated to ship from Chris's Bargains between November 9-20 — according to the Amazon representative. The reason given to me for the delay was "Out of Stock" (not from Amazon) but by Chris's Bargains.
I will continue to investigate. I don't feel satisfied. Here is why. Chris's Bargains on Google doesn't have a website. All its dealings are through Amazon. Feels shady. My theory is that other retailers who ship directly, instead of through third-parties, might be shipping on the release date (Oct 15). I'll test that theory and update. (debunked: read the updates below)
UPDATE (6:15pm): Barnes & Noble, Valorebooks, Thriftbooks, and Powell's also has Diablo: The Book of Adria set as Temporarily Out of Stock.
This is extremely suspicious to me in that when [You] pre-order months in advance, supposedly you are securing your copy. It behooves that you have priority over someone who just happens to fill his order post-delivery date. It doesn't make any sense that something that is "secured" and "pre-ordered"… out of the blue is out of stock.
Especially, three bonafide bookstores simultaneously being out of stock. Something is afoot here.
UPDATE (6:48pm): Robert Brooks (co-author) responded via Tweet. He will ask the Blizzard Publishing team tomorrow, and get back. Book of Adria is not cancelled. He would be the first to know. I'll eventually find out what's up with delivery date. In the meantime, I'll investigate local bookstores.
UPDATE (7:18pm): Amazon.fr, Amazon.co.uk, and the Bookdepository (UK) have begun listing Book of Adria for release November 20th. Germany still has today as the release date. Eventually, all bookstores online will have to update the new release date: November 20.
UPDATE (7:57pm): I called by phone the Amazon Store (59th Street) and Barnes & Noble (82nd Street) — both in Manhattan, NY. None have it in stock at their physical store. These are two popular bookstores in the heart of New York City.
UPDATE (Oct 17, 7:56am EDT): I haven't heard further updates. I continued investigating several bookstores across United States, and a few in Europe. A total of 31 bookstores. Most bookstores continue to list Book of Adria's release date as October 15. All of them continue to show either Out of Stock or Backorder.
A few of them, especially the popular bookstore chains Amazon, list the new release date: November 20.
The following list of Bookstores in US and Europe that have either updated a new release date, or not at all. N/U stands for No Update, which means they still show the October 15 release date, or even the original release date back in September. All bookstores, have not deleted the Book of Adria page. All say Out of Stock or Backorder.
Amazon (US): N/U
Amazon (UK): November 1
Amazon (FR): November 20
Amazon (CA): N/U
Amazon (DE): N/U
Barnes & Noble: November 15
Target: N/U
Book Depository (UK): November 20
Thriftbooks (US): N/U
Books-a-Million (US): N/U
Joseph-Beth Booksellers (US): N/U
Powell's (US): N/U
Schuler Books (US): N/U
Tattered Cover Book Store: N/U
Blackwell's (UK): N/U
Abe Books (UK): N/U
Abe Books (US): N/U
eCampus (US): N/U
Green Apple Books (US): N/U
Left Bank Books (US): N/U
Literati Bookstore (US): N/U
Book Culture (NYC): N/U
Skylight Books (US): N/U
Steam Boat Books (US): N/U
Parnassus Books (US): N/U
Politics and Prose Books (US): N/U
Greenlight Bookstore (US): N/U
Common Good Books (US): N/U
Square Books (US): N/U
WHSmith Bookstore (UK): N/U
Waterstones (UK): November 1
** Note: Something odd I found during my research is that Alibris is selling Book of Adria: A Diablo Bestiary as new or old for $80-94. That's a very strange behavior considering the suggested retail price.
UPDATE (Oct 18): Robert Brooks updated the status for Book of Adria via tweet:
Robert Brooks
: Hey everyone! Wanted to update you all on Book of Adria. Bottom line first: The release date has been pushed back.
I don't have an exact ETA yet, but the copies are en route from the printer and we hope to announce the availability date soon. It will be after BlizzCon.
Some good news: We will have the book available AT BlizzCon! Our products team is going to great lengths to make sure we get some early copies there. @Burnzerker and I should be on hand for signings, too!
We definitely could have communicated better about this. I'm sorry about the confusion, especially to those that preordered.
Thanks for your patience, and we'll let you know when we have our timeline ready!
UPDATE (November 27): Book of Adria finally got a launch date in Amazon… December 4th.